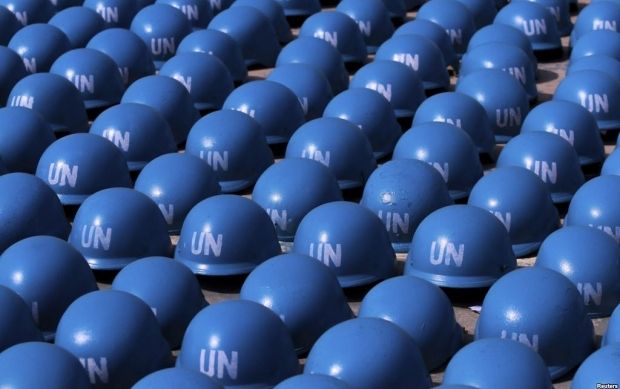 REUTERS
Both Sweden and Belarus have almost simultaneously announced their readiness to make a contribution to peacekeeping in Donbas, listing their conditions of participating in a UN peacekeeping mission whose deployment is pressed by the Ukrainian authorities.
Sweden would be open to providing troops to a UN peacekeeping mission in eastern Ukraine if Russia and the West agreed, the country's defense minister said, Reuters reported.
"If we see the right conditions and if we see that this mission can help ... then we are open to that," Swedish Defense Minister Peter Hultqvist told Ukrainian and U.S. officials at the Munich Security Conference on February 17 when asked about providing troops. "We are not there yet, but it is something positive."
Read alsoU.S. ready to help stop war in Donbas - VolkerAs a non-NATO country, Sweden was proposed as a possible lead nation in a UN force in a report commissioned by former NATO chief Anders Fogh Rasmussen, now an adviser to Ukraine's President Petro Poroshenko. The report was presented to officials including the U.S. special envoy to Ukraine, Kurt Volker, on February 17.
Later, the Belarussian Telegraph Agency BelTA quoted President of Belarus Alexander Lukashenko as saying that his peacekeepers are ready to stand between conflicting sides in Ukraine, provided Poroshenko and his Russian counterpart Vladimir Putin reach an agreement. "I've even told Poroshenko and Putin: don't expect me to become someone's man. I will precisely fulfill what you two agree on: if you want me to stand between [the warring sides], I will; if you want to deploy 10,000 Belarusian troops, we will place them on the border wherever you say," the Belarusian president said figuratively. "But I will be unable to do what you don't agree on." It is Belarus' stance, an honest and sincere one, Lukashenko said. "Otherwise, our peacekeeping effort will not be productive. It will not be productive if we take a side," he added.
As UNIAN reported earlier, on September 20, 2017, President Poroshenko, speaking at the general debate of the 72nd session of the UN General Assembly, said that the UN peacekeeping mission should be deployed throughout the occupied Donbas, including the uncontrolled section of the border with Russia.
Before that, Putin agreed to the deployment of UN peacekeepers only along the contact line in Donbas to "ensure safety" of the OSCE Special Monitoring Mission to Ukraine. He claimed that issue could not be resolved without Ukraine's direct contact with the "leaders" of Russian-backed militants in Donbas. Russia then sent the UN leadership a draft resolution on a peacekeeping mission in Donbas.
The United States, in turn, insists that the UN peacekeeping mission should have access to the Ukrainian-Russian border and should exclude Russian citizens.