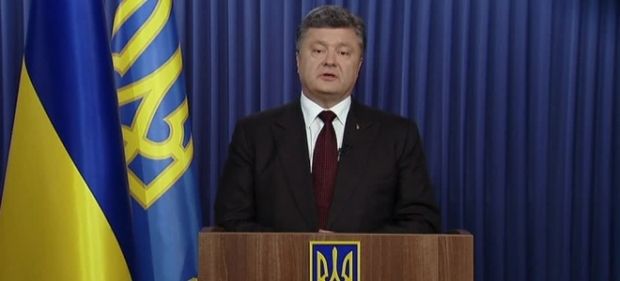 Photo by UNIAN
Speaking in a video address to the nation, President Poroshenko thanked Ukraine's voters for their support.
"I asked you to vote for a democratic, pro-European majority. Thank you for having heard my words, thank you for your support for this request," said the president.
He congratulated Ukrainians on the holding of the elections and promised that the vote count would be conducted properly. The official results of the elections have not yet been announced, but according to exit polls pro-presidential parties and blocs – the Bloc of Petro Poroshenko, the Popular Front and the Samopomich Party – took more than 50% of the vote.
Poroshenko also noted that for the first time in the history of independent Ukraine the pro-Russian Communist Party had failed to win seats in parliament, the Verkhovna Rada.
"For the first time in 96 years, the Ukrainian parliament will be without communists. I congratulate you with this event. Ukrainians have struck a final blow to a political fifth column. Justice has triumphed, and this also concerns the pro-Russian Party of Regions, which was unable to take part in the elections."
Some previous members of the Party of Regions will however be in the next parliament, as the Opposition Bloc, under which they ran for election, managed to pass the 5% election threshold to gain representation in the Rada.
As UNIAN reported earlier, according to exit polls, seven political parties crossed the 5% threshold in the early parliamentary elections on October 26 and will win seats in the Rada.