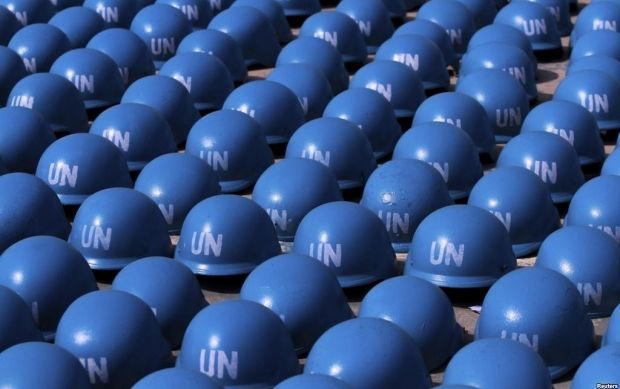 REUTERS
U.S.-Russian talks over a peacekeeping force for eastern Ukraine are emerging as a test for Washington on the wisdom of trying to negotiate with Moscow. The question for many Western diplomats is whether they can come to a reasonable deal with Russian President Vladimir Putin, or if an agreement with Moscow is akin to a deal with the devil.
Over the weekend, U.S. and NATO officials discussed the peacekeeping proposal with diplomats, including Ukrainian and Russian representatives, at the Munich Security Conference. Some U.S. officials privately voiced wariness, worried that Washington is walking into a trap set by Mr. Putin, according to The Wall Street Journal.
Current and former U.S. officials contend Russia has no interest in calming Ukraine. A peacekeeping force, they said, could inadvertently cement Russian control over eastern Ukraine rather than resolving the conflict.
Russia in September proposed a peacekeeping force to protect an international mission monitoring cease-fire violations near the line of control inside Ukraine between Kyiv's military and Moscow's proxy forces. Western leaders rejected Russia's proposal as ceding permanent control of parts of Ukraine's east to militants.
Read alsoReuters: Ukraine crisis needs 20,000-strong U.N. force: reportA U.S. counterproposal called for a peacekeeping force of about 20,000 troops that would take control of a much broader area, to include the border between Russia and Ukraine as well as the rest of eastern Ukraine. The U.S. and Russia have been discussing if it would be a formal UN mission or one supervised by a coalition of countries.
Russian officials have spoken positively about the possibility that an agreement could be reached over a phased approach while American and Western officials say the U.S. should proceed carefully.
Read alsoKlimkin: Up to 10 months needed to deploy peacekeepers in DonbasFormer officials said Russia could attempt to halt or interrupt deployment of peacekeepers, preventing the force from taking control of the Ukraine border. U.S. diplomats said risks could be mitigated if the proposal precludes a Russian halt to deployments or sanctions relief until peace is restored.
Ukrainian officials said they have no reservations about the U.S. peacekeeping plan, but are skeptical Russia will accept it. On Saturday, Mr. Poroshenko said he supported the talks.
Current diplomats believe there could be a window to act in coming weeks after the Russian presidential election in March and before the end of the World Cup, hosted by Russia, in mid-July.
Alexander Vershbow, the former NATO deputy secretary-general, said peacekeeping plan would only work if Mr. Putin decides he wants to get out from Western economic sanctions implemented in 2014, after Russia's intervention in Ukraine.
"It only works if Mr. Putin decides he … really wants to become part of international leadership and not a pariah," Mr. Vershbow said.