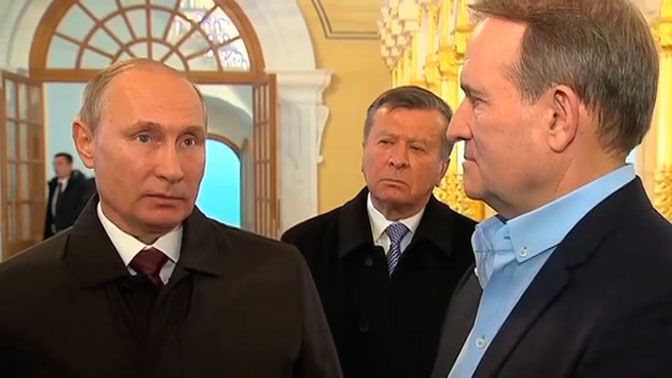 Screenshot
There has been the war, Crimea annexation, Vladimir Putin as Ukraine's ultimate enemy, while Medvedchuk remains the most mysterious figure in Ukrainian politics, whose real role is still not clear to the public.
Today he is a member of the Tripartite Contact Group in Minsk, negotiating the release of hostages. But no one really knows, what dealings he is up to when he flies to Moscow and what issues he actually resolves, the Secret Files TV investigation show says.
The journalists claim they have revealed the secrets of Kyiv-Moscow agreements.
Since the start of Russian aggression, Viktor Medvedchuk has turned into a "supervisor" of Russian businesses in Ukraine. Prior to the conflict, the politician was and certainly remains today a friend and business partner of Vladimir Putin. Therefore, he acts as a sort of an intermediary between Ukraine and the Russian leadership.
Read alsoPutin, Medvedchuk discuss second phase of prisoner swap in Donbas – Russian mediaDuring the investigation, the journalists exposed several resonating facts and schemes directly involving Mr Medvedchuk.
For example, starting from 2014, Russian Lukoil and TNK filling station chains have been boycotted by Ukrainian consumers. However, in a few years, unprofitable businesses were allegedly acquired by European investors. Several other filling station chains emerged on the market, such as the Swiss Glusco and Austria's Amic. However, experts argue that there is no evidence of those Russian companies having been bought and, in fact, there is a mere change of brands.
In Russia, oil business is led by Putin's ally and Rosneft CEO Igor Sechin. The owner of the European company Glusco, which "bought" the TNK chain, is a low-profile businessman Nissan Moiseev. However, experts and Ukrainian MP Serhiy Leshchenko assure that it is actually Viktor Medvedchuk standing behind the man and lobbying for the interests of Russian companies in Ukraine.
This was confirmed by journalists of the Schemes TV program, who last year spotted Medvedchuk and Moiseev arriving on the same chartered flight from Moscow.
But the Ukrainian authorities have for some reason been turning a blind eye to such business schemes on their own territory.