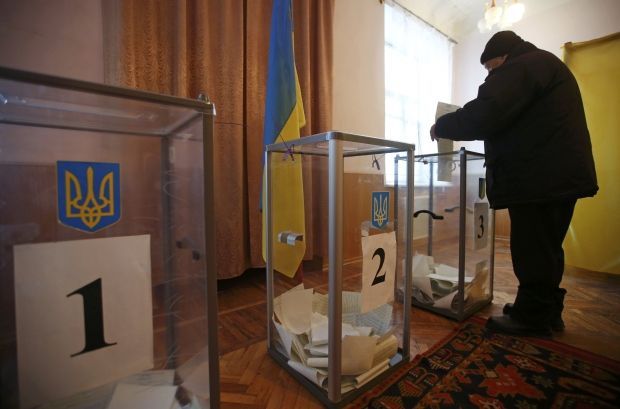 REUTERS
According to the official CEC count, the Popular Front as of 1750 on Monday had taken 21.67% of the vote, the Bloc of Poroshenko had 21.4%, Samopomich had 11.13%, the Opposition Bloc 9.88%, the Radical Party 7.37%, and Batkivshyna 5.66%.
The total number of votes counted as of 1750 was 9,762,175. Ukraine has about 30 million registered voters. Turnout is estimated at 51.2% - a very low figure for a Ukrainian national election. In addition, NGOs have reckoned about 4.6 million people were unable to vote in Crimea and the Donbas conflict zone in the east of Ukraine.  
Meanwhile the right-wing Svoboda Party, one of the main opposition parties in the last Rada, appears to be struggling to win seats in parliament this time round. The CEC said the party currently has 4.69% of the vote, just shy of the 5% electoral threshold for representation in the Rada.
An international exit poll released at UNIAN just after polling stations closed on Sunday had Svoboda at 7.4%. The Bloc of Poroshenko was seen at about 23%, and the Popular Front had over 19%.
The CEC said earlier that it expected to declare the final, official results of the parliamentary election on Wednesday.