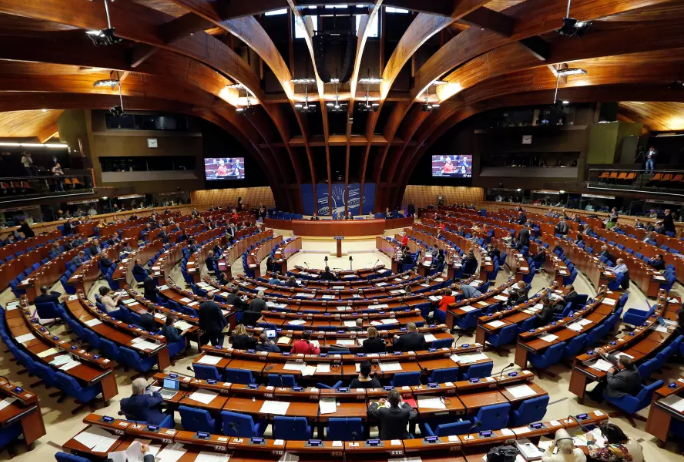 REUTERS
The Council of Europe has approved an Action Plan for Ukraine in support of reforms for 2018-2021 with an estimated budget of EUR 29.5 million.
As noted in a statement by Ukraine's Permanent Mission to the Council of Europe on Facebook, the new CoE Action Plan for Ukraine will facilitate the implementation of the Association Agreement with the EU.
In particular, it is noted that on Feb 21, 2018, the Committee of Ministers of the Council of Europe decided to approve the CoE's Action Plan for Ukraine for 2018-2021.
"The action plan is a strategic document of Ukraine's cooperation with the Council of Europe for a four-year term. Key partners on the Ukrainian side are central and local government bodies and non-governmental organizations," the report said.
In this regard, it is noted that "the estimated budget for the Action Plan is EUR 29.5 million, already funded by Switzerland, Norway, Denmark, Sweden, the Netherlands, Ireland, Czech Republic, Lithuania, Hungary, Liechtenstein and the European Union".
"Measures in the framework of the Action Plan are aimed at supporting specific reforms that should bring Ukrainian legislation, institutions, and practices in line with European standards in the field of human rights, the rule of law, and democracy," the report said.
Also on the initiative of Ukraine, the Action Plan for the first time clearly states that it should contribute to the achievement of objectives of the Association Agreement between Ukraine and the European Union.
Read alsoCoE recommends Ukraine tighten anti-money laundering laws"In accordance with the Action Plan, the Council of Europe will continue to provide assistance to Ukraine in reforming the judicial system, law enforcement agencies, enforcement of court decisions, as well as in the area of decentralization and combating corruption. Special attention will be paid to protecting the rights of internally displaced persons and the safety of journalists," the message says.
At the same time, the adopted Action Plan is the fifth document, which continues the tradition of program cooperation between Ukraine and the Council, launched in 2005.
"The adoption of the Action Plan was a symbolic act in the days when Ukraine sadly celebrates the fourth anniversary of the death of the Heavenly Hundred heroes and start of Russian aggression. But today we must look at the future and grasp the opportunities of the Action Plan for the implementation of reforms and European integration. On our initiative, the Council of Europe's new Action Plan for Ukraine will facilitate the implementation of the Ukraine-EU Association Agreement. A strong and successful Ukraine will be the best dedication to the heroes of the Revolution of Dignity and war with Russia," said Ukraine's Permanent Representative to the Council of Europe, Dmytro Kuleba.