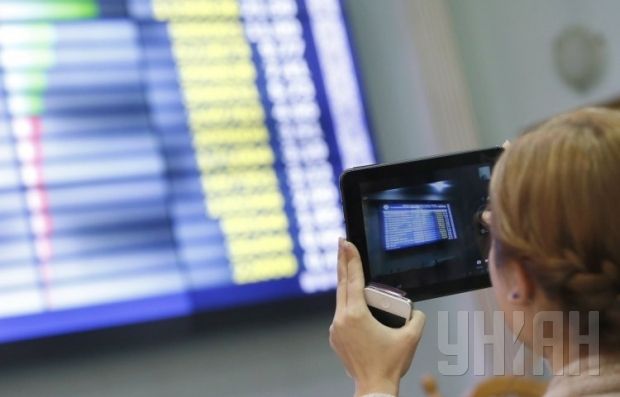 The Popular Front is still ahead on day two of the vote count in Ukraine's parliamentary elections / Photo by UNIAN
The Popular Front, led by Ukrainian Prime Minister Arseniy Yatseniuk, is still leading the pack of parties who have made it into the next Rada, with 22.03%, UNIAN has learned at the Central Election Commission.
Svoboda had only 4.68% of the vote, which is not enough to gain seats in parliament. 
The Bloc of Petro Poroshenko is still second with 21.68%. The Samopomich Party led by Lviv Mayor Andriy Sadoviy has 10.93%, the Opposition Bloc, largely made up of former loyalists of ousted President Viktor Yanukovych has 9.47%, the Radical Party of maverick politician Oleh Liashko has 7.47%, and the Batkivshyna party of Yanukovych arch-foe Yulia Tymoshenko has 5.7%.
Because of Ukraine's mixed voting system, in which half of the 450 seats are decided in first-past-the-post races in electoral constituencies, and the other half awarded according to party lists in proportion to the parties' share of the popular vote, the group with the largest number of seats in parliament is still almost certainly to be the Bloc of Petro Poroshenko, followed by the Popular Front.
In addition, around 100 seats could go to independent candidates elected in the constituency vote.
As UNIAN reported earlier, talks are underway in Kyiv on the formation of a ruling coalition in parliament between the Bloc of Petro Poroshenko, the Popular Front, and Samopomich. Togther, the three groups are almost certain to have more than the 226 seats in parliament required to form a majority coalition. All three have broadly similar manifestos that stress Ukraine's pro-Europe orientation and the need to enact wide-ranging reforms in the country.
Current Prime Minister Arseniy Yatseniuk is expected to be kept on by President Petro Poroshenko as the country's premier.