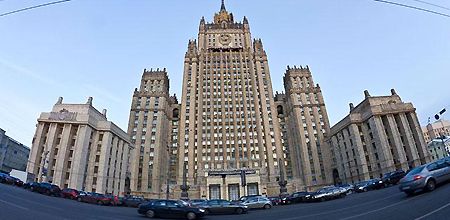 MFA Russia / moscow-live.ru
The Ministry of Foreign Affairs of the Russian Federation is raging over the entry into force of Ukraine's new law on Donbas reintegration.
On its website, the ministry wrote that "the document creates conditions for the forcible seizure of the territories of Donetsk and Luhansk regions now beyond Kyiv's control, legalizing the use of the Ukrainian army against civilians."
The report says that by signing off the law, Ukrainian President Petro Poroshenko "untied the hands of the 'war party' and 'signed the verdict' against Minsk agreements.
Read alsoUkraine's Donbas reintegration law enters into force Feb 24The Russian Foreign Ministry stressed that the law's entry into force coincides with the anniversary of the shooting of the Heavenly Hundred at the Maidan in 2014, the uprising the ministry called "a coup by Ukrainian nationalists."
Russian diplomats also expect that Ukraine's "Western curators" would be able to influence Kyiv and prevent "the implementation of a scenario disastrous for Ukrainian statehood."
As UNIAN reported earlier, the Russian Foreign Ministry branded the adoption of the Donbas reintegration law "preparation for a new war."