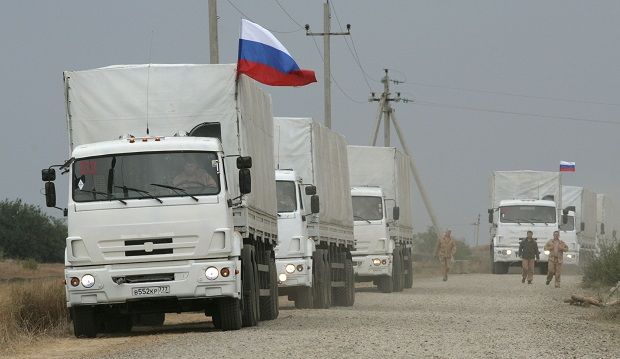 REUTERS
The column of about 100 trucks, according to the Russian authorities, is carring a total of 1,000 tonnes of  food, medicines, drinking water and building materials.
"We expect that tomorrow evening the column will be in Rostov region [of Russia] in the village Kovalivka," Russia's Deputy Emergency Situations Minister Vladimir Stepanov told reporters as the column set off.
"Then we will act in coordination with the Ministry of Foreign Affairs and the Red Cross," he said.
This is the fourth Russian convoy carrying humanitarian aid for Ukraine. None of the convoys have crossed into Ukraine with the agreement of the authorities in Kyiv, or have been fully inspected or monitored by the International Committee of the Red Cross.
Earlier on Tuesday Ukrainian officials said that Russia had not so far asked Kyiv for permission to send this latest aid convoy into Ukraine.