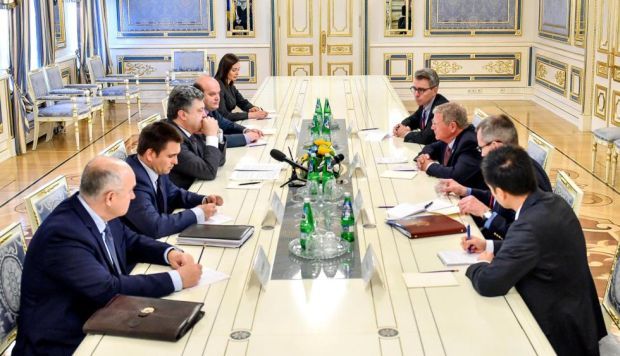 President Petro Poroshenko met with U.S. Senator James Inhofe in Kyiv on Tuesday / Photo from @poroshenko
The parties discussed the holding of the early parliamentary elections in Ukraine. In particular, "Poroshenko said that a day earlierhe had met with the delegations of the OSCE Observer Mission and the European Parliament, who noted that the Ukrainian elections, on the whole, were free and fair, and held in accordance with international standards," the statement reads.
"This is very important. This [concern] the reforms and the opportunities you have never had before," Inhofe said.
The President thanked the senator for his personal support for Ukraine, especially for the senator's co-authoring in Congress the "Crimea Annexation Non-recognition Act" and a draft bill "On Preventing Further Russian Aggression Toward Ukraine and Other Sovereign States in Europe and Eurasia."
Poroshenko expressed hope that the U.S. Congress would succeed in passing these important legislative acts.
The parties also discussed the reform of the defence sector in Ukraine, as well as energy security issues.