The second session of deputies of all levels was held in Severodonetsk last weekend.
3647 deputies of all levels and from all regions of Ukraine took part in the work of the session. Besides, 159 members of parliament also registered as participants of the session.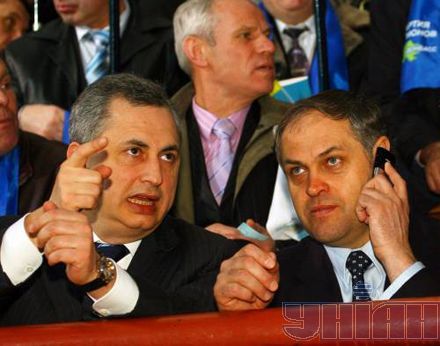 As usual, deputies could not do without a Russian landing party, headed by omnipresent Kostyantyn Zatulin. Besides, his speech won a storm of applauds.
Victor Yanukovych also compelled the attention - he nearly suffered from the "people's love", expressed to him. The Party of Regions front-runner, upon arriving to the session, delivered a speech to an almost 2-thousand people rally.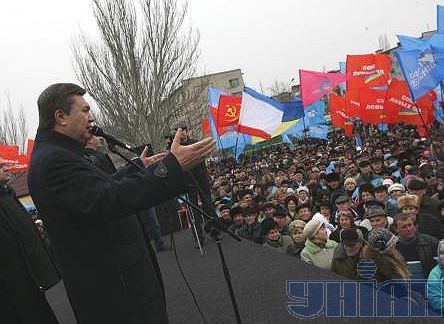 After the rally the ex-Prime Minister faced a contingency. One of "people's representatives" tried to push through to Yanukovych and hand him a bag (probably, with his wishes, written on paper, or, maybe, with sandwiches – to have a snack before the main speech – who knows).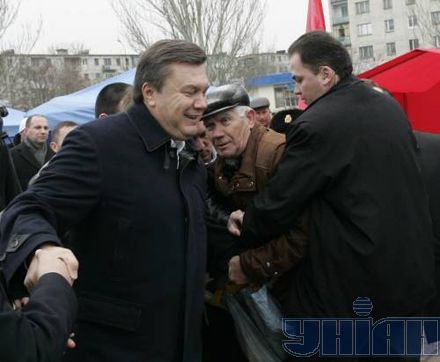 However, Yanukovych's guards did not appreciate this gesture, and promptly moved the pushy man back. In his turn, Yanukovych did not bat an eyelid and kept on walking with a friendly smile on his face.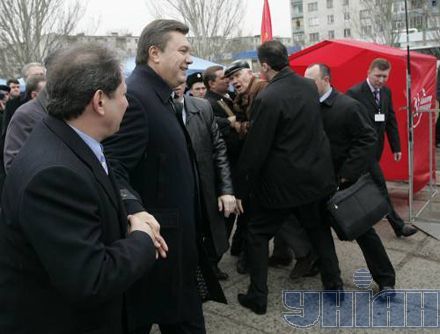 Having entered the session hall, Yanukovych heartily greeted those present.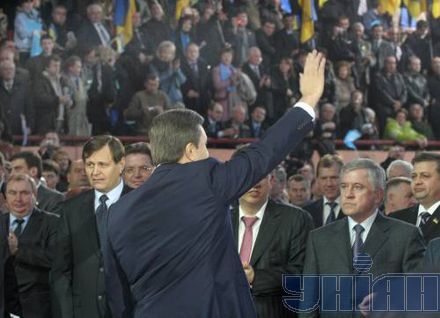 In his speech, Victor Yanukovych focused on many pressing issues: the situation in parliament, the "forced introduction of the Ukrainian language", the constitutional reform. Having analyzed these facts, the ex-Prime Minister concluded that Ukraine has a "wrong power".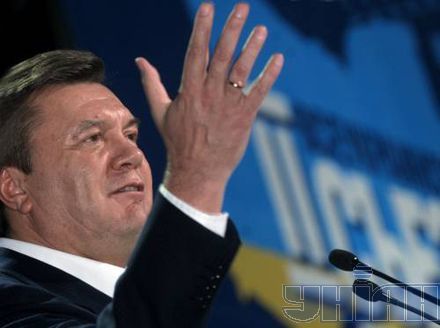 The speech of the "white-and-blue" leader lasted for 21 minutes. Only when the ex-Prime Minister said "ghost" [prizrak] instead of "feature" [priznak], people noticed that he was reading his speech from a  special tiny screen situated in front of his eyes.
One of the Party of Regions's leaders Rinat Akhmetov did not attend the Severodonetsk session. Why? It became clear later. Akhmetov's spokes person Olena Dovzhenko disclosed that he fell ill with influenza.
However, it appeared Akhmetov felt himself better because he attended a match of his favorite football team "Shakhtar" with "Zakarpattya" at "Olimpiyskiy" stadium.
Meanwhile, deputies in Severodonetsk for two hours discussed "difficult and pressing problems", adopted a resolution, and closed the session.
Photos by UNIAN