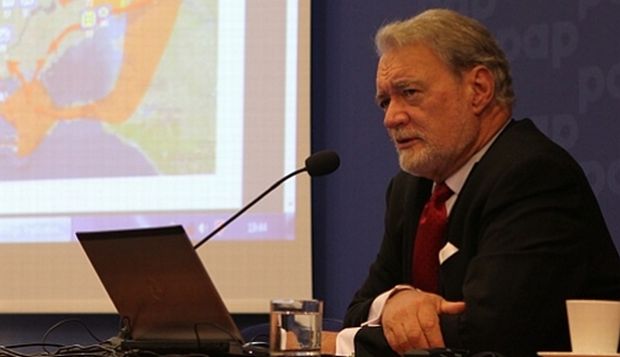 Ukraine should prepare for an attack by Russia in spring, a U.S. experts warns / Photo from forum-ekonomiczne.pl
U.S. military expert and Georgetown University Professor Phillip Karber gave the warning in an interview with Ukrainian channel 1+1's TSN news service.
"I'm talking about defending the borders, about major protection from multiple points of attack," Karber said.
"You already you need a high degree of security now. Why? The forecast is as follows: you should expect a major Russian offensive in spring 2015, as happened in late March, early April this year. There are several reasons for this: Russia will carry out a rotation at the beginning of the year, [and] train new militants for deployment. The weather will be warmer. It is a very convenient and dangerous moment. The same events took place a year ago, so it is reasonable to assume it will happen again."
Karber said some border sections with Russia in Chernihiv, Sumy and Kharkiv regions currently remain highly vulnerable, as all of Ukraine's military capacity has been deployed in the east and south. Therefore, Ukraine should take measures to ensure there is a thorough military defence of its north-eastern border. In addition, Russia has built up a huge number of warships in the Black Sea, he said.
Invading Russian forces may be also come from Transdnistria, the breakaway area of Moldova on Ukraine's south-western border, Karber said. That means that Ukraine, in essence, should ensure it has a 300-degree defence of its borders. All three sides are dangerous, the expert said.