Photo from UNIAN
Ukrainian law enforcement agencies do not let Russian citizens in the building of the Russian Federation's Embassy in Kyiv for voting in the Russian presidential election.
The Ukrainian National Police carefully check documents of people who want to enter the embassy's building at the door frame metal detectors, an UNIAN correspondent has said.
They let journalists pass through if they have a press card, but people with passports of Russian citizens are not allowed to enter.
The police emphasize that only people with diplomatic passports can get into the building.
Read alsoPutin visiting occupied Crimea on March 14, pending presidential election
At the same time, the UNIAN correspondent saw only two cases when a person with a Russian passport had not been allowed to enter the embassy's premises. There were not many people wishing to come to the embassy for voting, the correspondent said.
Meanwhile, Ukrainian activists are staging a rally outside the embassy's building in protest against the Russian presidential election in occupied Crimea. Their number is growing. They have brought an audio system, which is playing Ukrainian patriotic music. Around 80 people carrying the flags of the National Corps, the Svoboda Party, Right Sector and NGO Sokol are holding a rally at the metal frames on Povitroflotsky Avenue.
Five activists of the Svoboda Party have lit firecrackers, but the police have not reacted.
Activists have surrounded a man who came to the embassy for voting, and begun to ask: "Aren't you ashamed to vote?", and also: "Who does Crimea belong to?" However, this Russian citizen has not answered the questions.
Participants in the rally stress they will not allow Russian citizens to vote in the Russian presidential election. "Not a single enemy, not a single Russian will be let in the embassy's building," an activist said.
Also, the activists fixed large posters on the fence in protest against the elections in the occupied Crimea. In particular, the posters said: "Moscow's Occupiers Out!" and "No to Election of Putin in Ukraine!"
Russia is holding its presidential elections on Sunday, March 18.
The day before, Russian diplomats' cars were covered with graffiti depicting Ukrainian symbols, namely the state coat of arms of Ukraine, also known as the Tryzub, according to the news portal Censor.net.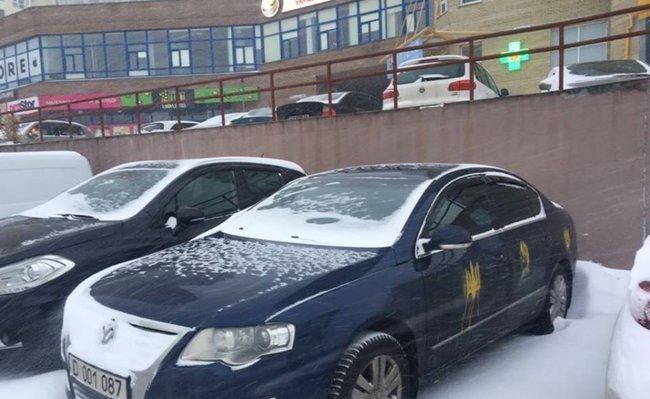 Photo from censor.net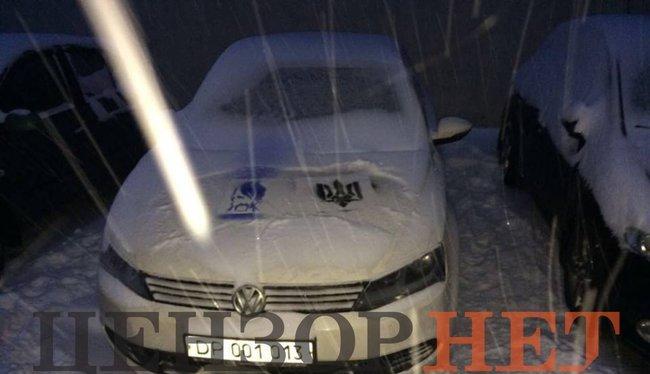 Photo from Censor.net
Ukrainian Interior Minister Arsen Avakov said Moscow had ignored a request from Kyiv not to hold the illegal elections in the Russian-occupied Crimea, prompting the ban on Russians voting on Ukrainian territory.
"On Sunday March 18, 2018, the security regime for the Russian Federation's diplomatic missions on Ukrainian territory in Kyiv, Kharkiv, Odesa and Lviv will not provide Russian citizens access to these buildings for voting," Avakov said.