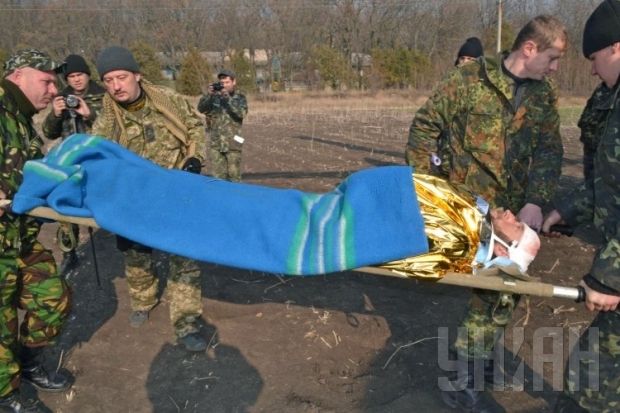 Militant attacks violating the ceasefire have resulted in the deaths of 100 Ukrainian soldiers in the last two months, according to Ukraine's Foreign Ministry / Photo by UNIAN
"Despite a slight decrease in fighting activity, the rebels and Russian troops have not stopped firing at the positions of [Ukrainian army] forces," Perebyinis said at a press briefing in Kyiv, an UNIAN correspondent reports.
"[The insurgents] did not pull back from the demarcation line and continued to conduct offensive operations. As a result, over the last two months more than 100 Ukrainian soldiers were killed and about 600 were wounded."
As reported on November 2, three Ukrainian soldiers were killed and seven militants injured on that day in the Donbas combat zone in the east of Ukraine.
Ukrainian forces and the pro-Russian insurgents are supposed to have been observing a ceasefire since early September, when the Minsk Protocol on ending the conflict in the Donbas was signed.
However, Ukrainian forces and the insurgents have been exchanging fire on an almost daily basis since the ceasefire was announced. The Ukrainian government has said it has ordered its soldiers only to fire if fired on by the militants.
The militants have launched almost daily attacks on the airport in Donetsk, which Ukrainian troops have been holding since late May. The militants have also attacked Ukrainian checkpoints to the north and west of the city of Luhansk, taking more ground from government forces.
The insurgents also moved in to take more territory as hostilities died down in the first week of September, and Ukrainian forces broadly observed the ceasfire. In the space of a few days, the insurgents roughly doubled the amount of ground they held, taking control of large stretches of the Ukrainian-Russian border in Ukraine's Donetsk region.