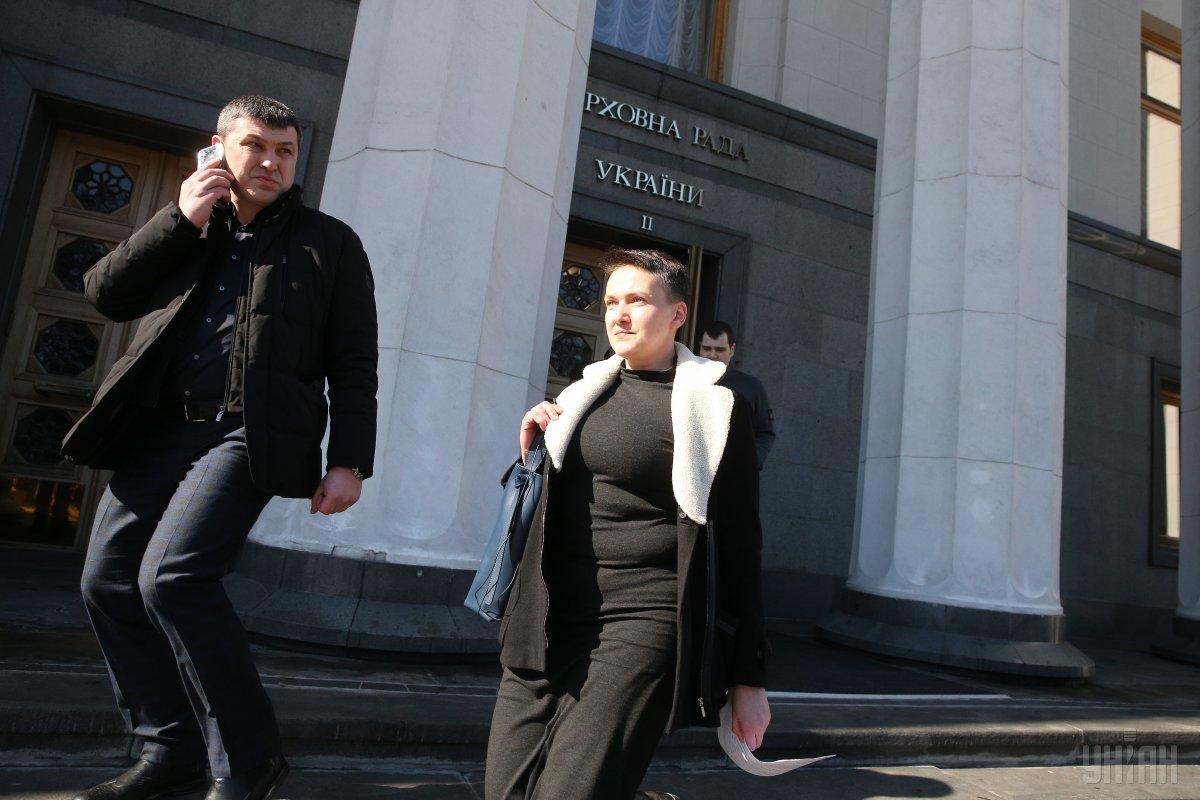 Photo from UNIAN
Notorious Nadiia Savchenko's team consists of people who choose to remain out of the spotlight and who have been working with her closely, creating her political and public image and, perhaps, pushing her to certain steps, the TSN news service reports.
Ukrainian people's deputies and political observers say the former war pilot has in fact been recruited by the Russian FSB. She is also called a protégé of Vladimir Putin's political operative in Ukraine Viktor Medvedchuk.
Alongside Nadiia Savchenko there is always her sister, Vira, who attended all court hearings in Russia where Savchenko was being tried on trumped up charges, and on Thursday, March 22, she also accompanied the now-detained MP from Parliament to the SBU security service premises. Journalists noted that en route to the SBU, Vira was constantly on her cellphone, telling her interlocutors what was going on, and, perhaps, receiving advice on what to do next, and then passed instructions to Nadiia.
Read alsoRada strips MP Savchenko of parliamentary immunity, allows arrestMP Savchenko's colleagues from the deputy corps have long noticed the fact that deputy Savchenko has been taking instructions from actual professionals. All of her speeches are always clearly designed for the protest audience, they say.
After Savchenko was publicly accused  of plotting to set the parliament building on air, blowing up grenades and mortaring the dome, she released a 12-second intimidating and dark-humored video titled "Boom!" where she is shown standing at an empty Rada hall saying "Boom!" on camera, then asking a question: "What? You sh*t your pants?". This move some have called a real political breakthrough.
People's deputies say that the former air force officer released from captivity turned into a skilled and eloquent public speaker too quickly and received considerable funding for her political activities.
Read alsoSavchenko to Ruban discussing terror plot: "I propose a coup. They need to be removed physically - all at once""Obviously, someone has worked with her very seriously. I talked with her in the Rada hall more than once, and I know the way she talks normally. She speaks in sentences that are difficult to pull together. She struggles to shape her thoughts," says MP Viktoria Syumar.
"I saw Nadiia's first addresses after her return from [Russian] prison and all videos with her during the Maidan, In such a short period, no one can change their behavior model so quickly by themselves," MP Serhiy Rudyk says, hinting at professional assistance having been provided to Savchenko.
Chief of the Rada's national security and defense committee Serhiy Pashynsky believes that it is the Russian intelligence that stands behind Savchenko and that she was recruited while in the Kremlin captivity. "Unfortunately, she was recruited and, unfortunately, she is now clearly working for the aggressor state. It's the details…  As soon as she got out of captivity, the first thing she did was travel across Western Europe and the U.S. with a single message: No weapons should be provided to Ukraine," he said.
Many other politicians in Ukraine share this view while some believe it's not the FSB but Putin's crony Viktor Medvedchuk who fund Savchenko's political campaign. "There's Medvedchuk's funding there, there's targeted financial support," says Zoryan Shkiryak, an adviser to the head of the Interior Ministry
"I think she definitely contacted people who imposed upon her the opinion that she should 'save Ukraine', even if she needs to take unpopular and very risky steps. As for the financing, it's no secret that Medvedchuk was involved," MP Volodymyr Parasiuk is convinced.
Journalists suggest that this money is used to rent a spacious office downtown Kyiv for at least $3,000 a month.
Incidentally, the landlord is the same person who rented out an office for Mikheil Saakashvili in the neighboring building.
MPs have another version, claiming that Savchenko is actually assisted by the owner of the NewsOne TV channel, Yevhen Murayev. In a telephone conversation with TSN, he did not refute contacts with Nadiia Savchenko. "I shared with her my vision of the general picture and actions in private conversations," he said. Now Murayev is paying for professional lawyers in the Savchenko case.