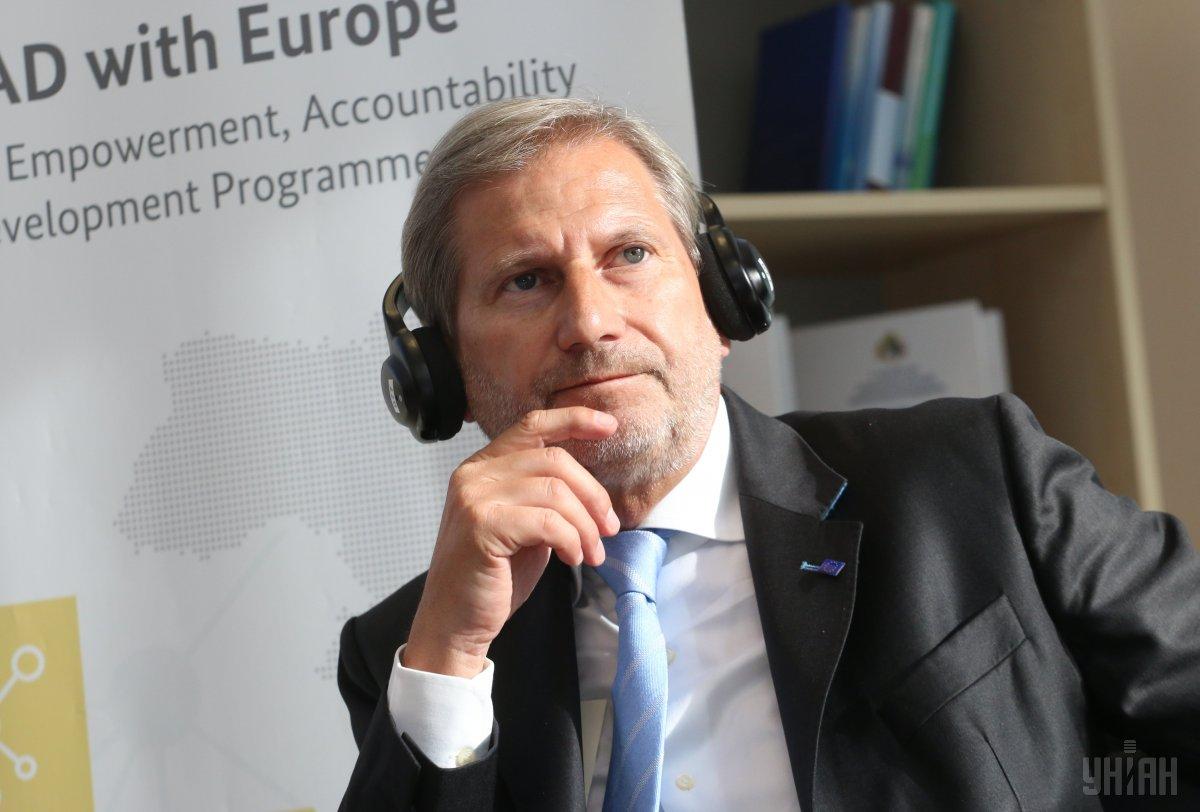 Photo from UNIAN
European Commissioner on EU Neighborhood Policy and Enlargement Negotiations Johannes Hahn says Ukraine's parliament, the Verkhovna Rada, has to as soon as possible lift the requirement to declare assets off of civil society activists, according to an UNIAN correspondent in Brussels citing Hahn's statement.
"On 1 April, the deadline for submission of the asset declarations for civil society activists will lapse. The Ukrainian authorities have not lived up to their commitment. The failure to repeal the extension of this obligation from public officials also to civic activists is contrary to Ukraine's European aspirations. It is contrary to the strong recommendations given by Ukraine's international partners, including the EU (also in the context of monitoring Ukraine's continued implementation of commitments in the visa liberalization process), the Venice Commission and the OSCE/ODIHR," the statement reads.
Read alsoVenice Commission criticizes Ukraine's bills on financial disclosure requirements for NGOs, activistsHe notes that civil society has been doing "an important and courageous work and must be able to play its proper role without undue obstacles and interference".
"The purpose of the asset declaration system is to help prevent corruption by public officials by exposing potentially unjustified wealth of public officials. Civil society members are not public officials and imposing asset declarations upon them only puts unacceptable and undue burden and pressure on them and will play into the hands of those keen to destroy Ukraine's efforts to fight corruption effectively." Hahn says.
"The EU's relationship with Ukraine is based on common values. Both sides have agreed that respect for democratic principles, human rights and fundamental freedoms constitute the essential elements of the Association Agreement," reads the statement. "Ukraine has made remarkable progress over the past years. It is important not to create setbacks and undermine the progress that has been made. Ukraine's parliament should revert to the issue and lift asset declaration obligations on civil society activists and limit these to public officials as soon as possible. The EU stands ready to provide further support and advice."
As UNIAN reported earlier, Ukrainian President Petro Poroshenko on March 27, 2017, enacted the No. 6172 law on amendments to Article 3 of the Ukrainian Law on Prevention of Corruption, introducing e-declaration for non-governmental organizations (NGOs).
The law sparked harsh criticism on the part of civil society in Ukraine as well as the U.S. and EU. A number of foreign partners called it a "step back".
The Venice Commission stated that the requirements for the anti-corruption activists to submit e-declarations of assets should be completely removed from the relevant law or significantly narrowed.
On March 21, 2018, the Verkhovna Rada Committee on Prevention and Combating Corruption recommended that the parliament adopt bills proposing to postpone the provision of e-declarations by civil activists.
On March 22, the parliament refused to consider said bills.