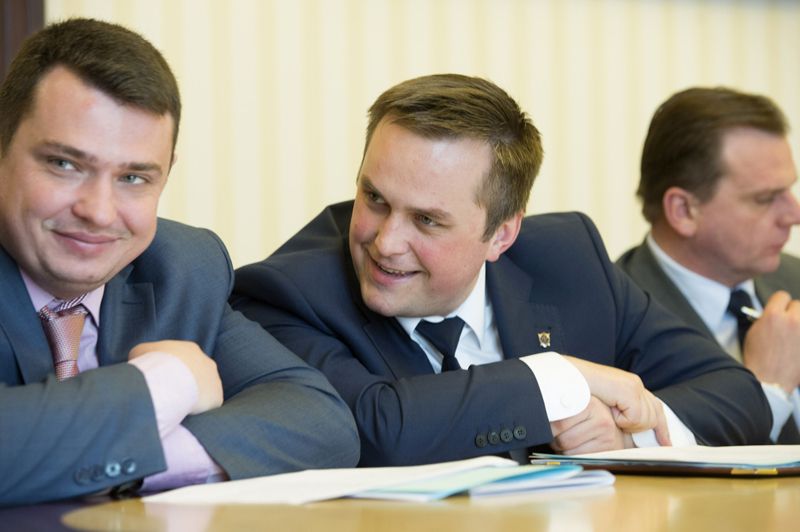 Sytnyk and Kholodnytsky - TV Channel 5
Director of the National Anti-corruption Bureau of Ukraine Artem Sytnyk said that once the initial reports were confirmed about the head of the Specialized Anti-corruption Prosecutor's Office Nazar Kholodnytsky obstructing investigation of a number of criminal cases, a probe has been launched against him.
NABU operatives periodically received information on strange actions by the SAPO head and a number of his subordinates, Sytnyk said in an interview with ZN.ua.
"The line he had chosen has long had a negative impact on the effectiveness of our investigative efforts and further judicial prospects of a number of cases. We periodically received information about some strange and inexplicable actions by the SAPO head and individual prosecutors. The more actively we investigated, the more alarming signals were received. Detectives speculated that the probes were hindered deliberately," Sytnyk said.
He noted that for a long time NABU had no evidence exposing Kholodnytsky, but in one of the cases they managed to obtain "specific information that confirmed our worst suspicions."
"In the case of embezzlement in the Odesa City Hall we got the information and saw that it would be unacceptable to leave things as they were," Sytnyk said.
Read alsoLutsenko asks Prosecutors Qualification Commission to sack top anti-graft prosecutorCalling out a number of other cases affected, Sytnyk said: "It's hard to imagine what we would've heard had the bug been planted four months ago, not just four weeks."
Sytnyk noted that the records secretly made in Kholodnytsky's office prove the SAPO chief "has been tipping off suspects about the upcoming searches." He added that pressure had apparently been inflicted on certain officials to force them into taking certain decisions.
"At some point, our colleagues from the General Prosecutor's Office suggested that we join efforts to obtain evidence. We agreed, realizing that in this case such cooperation is necessary and justified. If we turned a blind eye to the facts we'd been aware of, we would become complicit," he added.
As UNIAN reported earlier, in March, the media reported that Kholodnytsky was mulling resignation after the Easter holidays. MP Yehor Sobolev said that Kholodnitsky would be "pushed" to make such decision, calling such media reports a form of pressure on the SAPO head.
Read alsoOffice of Ukraine's top anti-graft prosecutor bugged – mediaLater came the reports that Kholodnytsky had found a bug at his office, claiming he did not knew who had planted it.
On March 30, Prosecutor General of Ukraine Yuriy Lutsenko appealed to the Prosecutors Qualification Commission of Prosecutors to consider removing Nazar Kholodnytsky from his post over disciplinary misconduct.