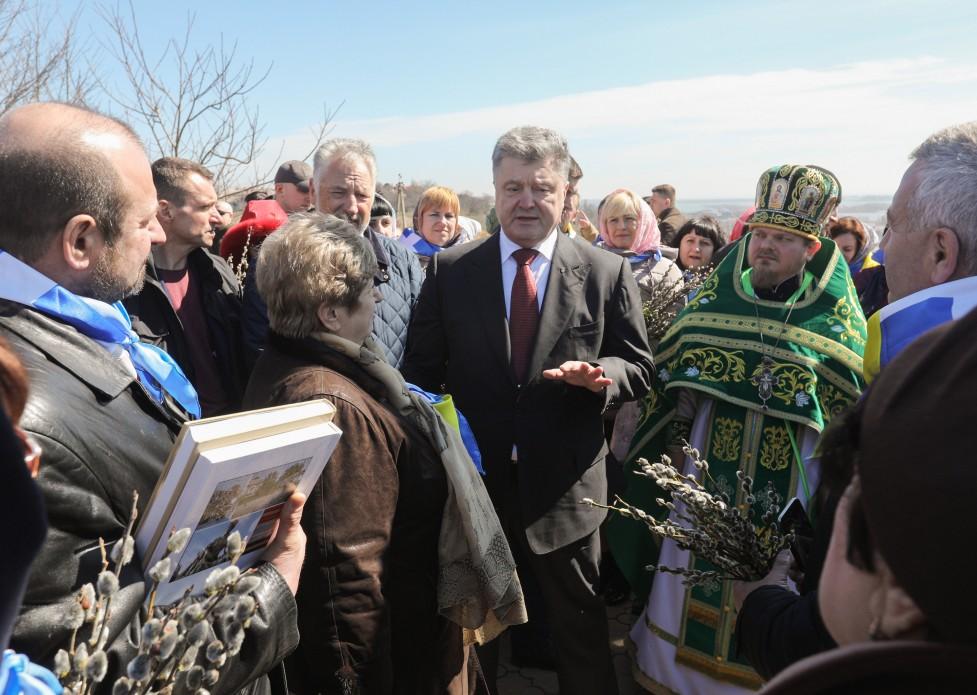 Poroshenko is in Mariupol, Donetsk region, on a working visit / Photo from president.gov.ua
Ukrainian President Petro Poroshenko says that the deployment of an international peacekeeping mission to Donbas will make the Russian occupation troops leave the occupied east of Ukraine.
"The [recently announced Easter] truce is urgently necessary, as it has conditions allowing to introduce a special peacekeeping mission under a decision by the UN Security Council. So that the peacekeepers come to the entire occupied territory," the president said on Sunday, April 1, during his working visit to Donetsk region.
His first destination during the tour was the Ukrainian-controlled city of Mariupol in Donetsk region. He was accompanied by Ukrainian Defense Minister Stepan Poltorak and Chief of the General Staff of the Armed Forces of Ukraine Viktor Muzhenko.
According to Poroshenko, the presence of peacekeepers throughout the occupied territory will be conducive to the return of the Russian troops to Russia and the withdrawal of all their weapons and equipment.
"To date, Donetsk region is a number one presidential priority," he said. "Why is this so important? Because when the peacekeepers appear everywhere – from Novoazovsk to Luhanska Stanytsia, they will also be present in Donetsk, in Luhansk – there will be no room for the Russian army, they will move back across the border," Poroshenko said.
He insists it is necessary to create conditions for the deployment of the peacekeepers "by enacting a decision of the UN Security Council [on the deployment of an international peacekeeping mission to Donbas]."
"Today, Ukraine's firm position in the struggle for peace has translated into the fact that all the countries, except Russia, support the need to introduce peacekeepers. We see Russia find itself in total and complete isolation simply because it has unleashed aggression against Ukraine and kills Ukrainians," the Ukrainian president said.
Read alsoNormandy Four leaders to seek ways to speed up peace efforts in eastern Ukraine – media
"As announced in a statement by the President of Ukraine, the Chancellor of Germany, the President of France – and we made [Russian President Vladimir] Putin also sign the statement, as he did not want to do that, the truce [in Donbas] started on March 30," Poroshenko said.
The Ukrainian army has strictly been observing the Easter ceasefire, while Russian-controlled troops in occupied Donbas continue violating the peace agreement.
"This is unacceptable," Poroshenko added.
Read alsoTwo Ukrainian soldiers wounded in Donbas in past day
According to the Ukrainian president, he is going to visit Germany on Tuesday, April 10, where he is to discuss, among other things, the deployment of the peacekeepers in Donbas.
In his words, the main priority of the Ukrainian government is to rebuild destroyed infrastructure in Donetsk and Luhansk regions, namely schools, kindergartens, hospitals, roads, bridges, lighting and other facilities.