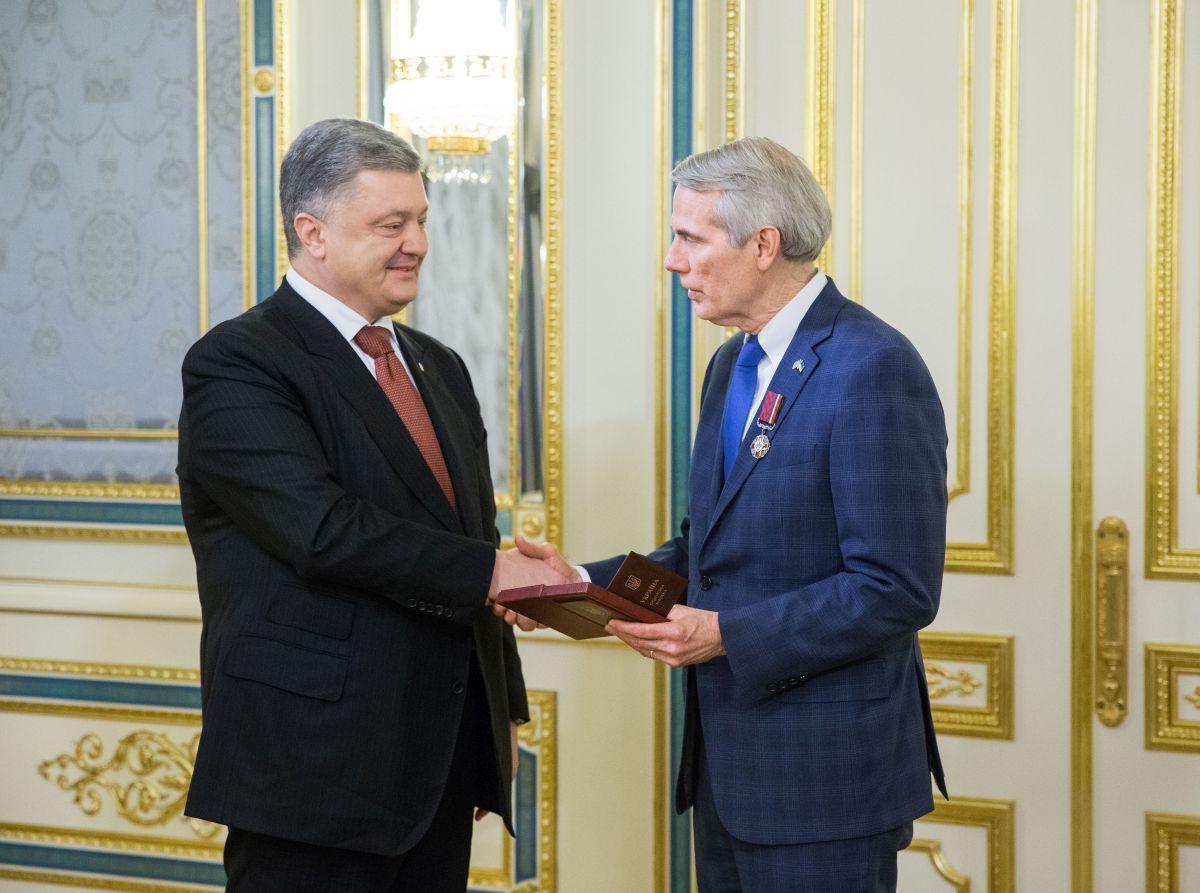 Poroshenko and Portman at the Presidential Administration in Kyiv / Photo from president.gov.ua
Ukrainian President Petro Poroshenko has met with U.S. Senator Rob Portman and awarded him a third-grade Order of Merit for distinguished service.
This high award was given to Portman "for his personal contribution to strengthening Ukrainian-American interstate cooperation, upholding the state sovereignty and territorial integrity of Ukraine," Poroshenko's press service reported on Wednesday, April 4.
The meeting took place at the Presidential Administration's building in Kyiv as part of Portman's visit to Ukraine.
The Ukrainian president expressed gratitude for the strong bipartisan support of Ukraine from the U.S. Senate and the active and consistent work in that direction of the Senate Ukraine Caucus co-chaired by Senator Portman.
Read alsoRFE/RL: U.S. Senator says new antitank weapons for Ukraine will help bring peace
Poroshenko noted Portman's personal contribution to providing military assistance to Ukraine, including defensive weapons, as well as to imposing sanctions against Russia over its aggression against Ukraine.
The two officials also discussed the situation in Donbas. They resolutely condemned ongoing violations of the Easter ceasefire by the Russian-controlled militants.
They agreed the sanctions against Russia should remain in force to make it end armed provocations, stop escalating tensions and ensure the proper implementation of the Minsk accords.
In addition, Poroshenko stressed the importance of further coordinated international efforts to deploy an effective UN peacekeeping mission to Donbas.
Special attention was paid to strengthening unity on energy issues, and in this context, threats posed by the Nord Stream 2 project were mentioned.
Poroshenko and Portman also discussed topical issues of reforms that are being implemented in Ukraine. The Ukrainian president informed the U.S. senator about the progress achieved in that area and briefed about planned steps, in particular in adopting a national security law and fighting against corruption.