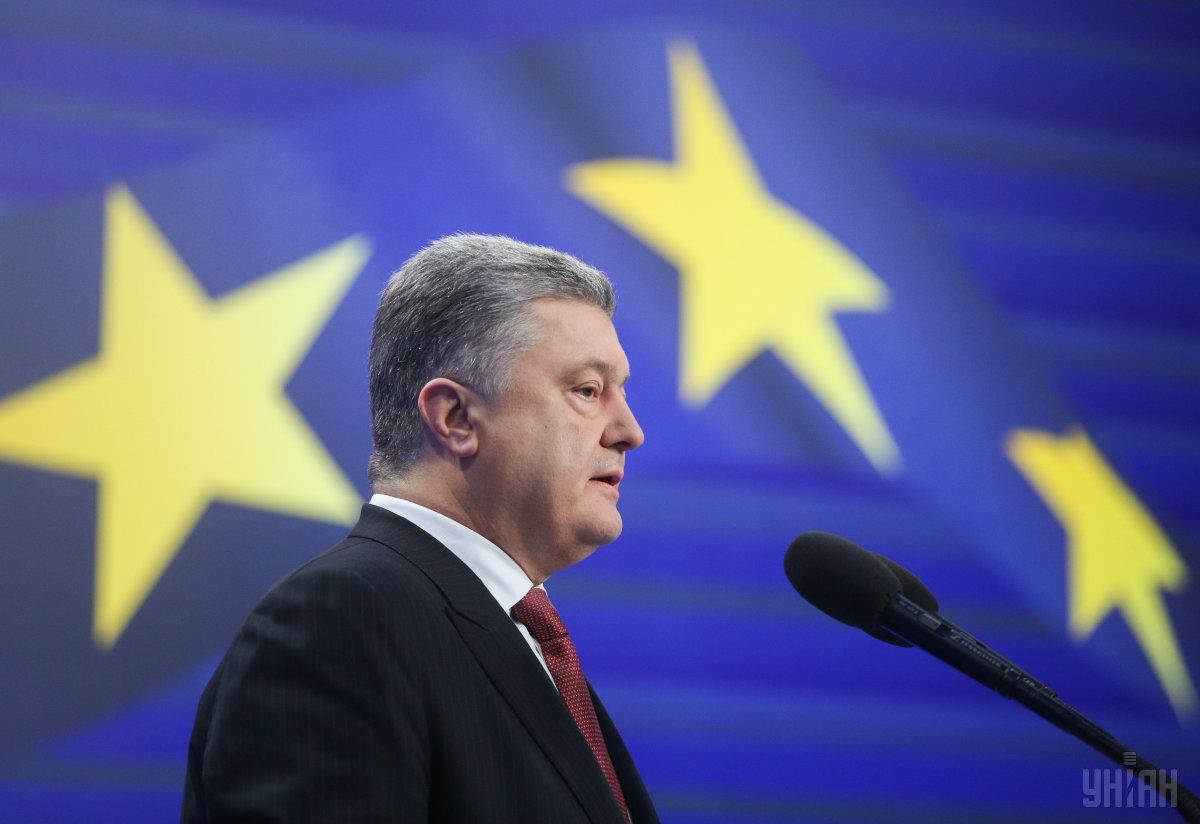 Photo from UNIAN
Ukrainian President Petro Poroshenko has welcomed the expansion of U.S. sanctions against figures on the so-called 'Putin list' and expects that the National Security and Defense Council of Ukraine will submit its comprehensive proposals to synchronize Ukrainian sanctions with the U.S. ones.
"I welcome the unprecedented expansion of U.S. sanctions against those on the 'Putin list!' A decent response to the aggressor through its oligarchs and the Kremlin allies for aggression against Ukraine, interference in the internal affairs of independent states and disrespect for international law," Poroshenko wrote on Facebook on April 6.
"The free world further strengthens its anti-Moscow coalition, with Washington in the clear lead and on the basis of a strong transatlantic unity and common values. I believe the EU will similarly strengthen its restrictive measures against the Kremlin's governing elite," Poroshenko said.
Read alsoU.S. Treasury sanctions Russian oligarchs, officials, entities in response to worldwide malign activity
"I expect comprehensive proposals on the synchronization of the Ukrainian and American sanctions regimes from the National Security and Defense Council of Ukraine in the near future. Only acting as one front, we can change Russia's behavior and restore the sovereignty and territorial integrity of Ukraine!" the Ukrainian president wrote.
As UNIAN reported, the U.S. Department of the Treasury's Office of Foreign Assets Control (OFAC), in consultation with the Department of State, on April 6 designated seven Russian oligarchs and 12 companies they own or control, 17 senior Russian government officials, and a state-owned Russian weapons trading company and its subsidiary, a Russian bank.
The list includes such oligarchs as Vladimir Bogdanov, Oleg Deripaska, Suleiman Kerimov, Igor Rotenberg, Kirill Shamalov, Andrei Skoch and Viktor Vekselberg, oligarch-owned companies, such as B-Finance Ltd., Basic Element Limited, EN+ Group, EuroSibEnergo, United Company RUSAL PLC, Russian Machines, GAZ Group, Agroholding Kuban, Gazprom Burenie, NPV Engineering Open Joint Stock Company, Ladoga Menedzhment and Renova Group. Furthermore, it lists Russian state-owned firms, such as Rosoboroneksport and the Russian Financial Corporation Bank (RFC Bank). Moreover, the U.S. Treasury designated several Russian government officials, including Minister of Internal Affairs and General Police of the Russian Federation Vladimir Kolokoltsev, Director of the Federal Service of National Guard Troops and Commander of the National Guard Troops of the Russian Federation Viktor Zolotov, Head of Roskomnadzor Alexander Zharov, President, Chairman of the Management Board, and Member of the Supervisory Council of state-owned VTB Bank Andrey Kostin, Governor of the Tula region of Russia Alexey Dyumin, and others.