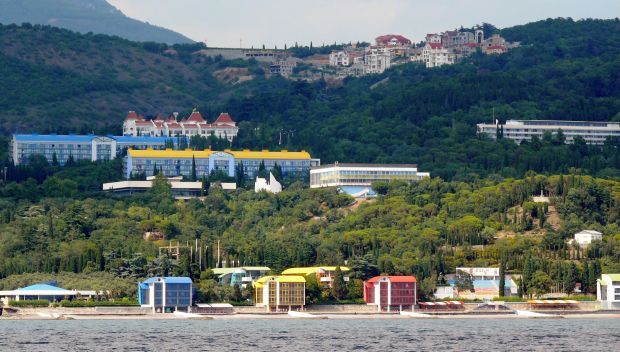 Artek on the Black Sea coast / Photo from crimea-media.ru
Three children of Syrian President Bashar al-Assad have vacationed in the famed ex-Soviet youth camp Artek in Russian-occupied Crimea.
Two sons, Kareem and Hafez, and daughter Zain have spent time in Artek, the camp's director Aleksey Kasprzhak confirmed media reports, according to the Moscow-based radio station Govorit Mosvka.
"Yes, they have been here. They stayed as ordinary children. We had children with such a family name. I did not know who their father is," the camp director said.
Read alsoPoroshenko considers U.S.-led coalition airstrike in Syria compelled yet justified
According to the rules, children can spend only one shift per year in the camp and no exceptions were made for Assad's children. The children spoke English and Arabic, the director said.
"In my opinion, they liked being here," he said. "They are fond of sports, if I remember well."
It was Russian Duma member Dmitry Sablin who first revealed information about the vacation of Assad's children in Artek in 2017. He cited information shared by the Syrian president at a meeting with Russian parliamentarians, who arrived in Syria on April 11, the Russian news agency RIA Novosti said.
"My children visited Artek last year. They started to better understand Russia after that trip," Sablin quoted Assad as saying.
Hafez is 16, Zain is 14 and Kareem is about to turn 13.
Artek, a once dream destination for children from across the Soviet Union, is located on the Black Sea, in the town of Hurzuf on the Crimean peninsula. In 2015, it celebrated its 90th anniversary. It was seized by Russia during the annexation of Ukraine's Crimea in March 2014.
In keeping with the current Ukraine entry/exit rules, the only lawful way of entering Russian-occupied Crimea is to cross the administrative border between mainland Ukraine and the Crimean peninsula.