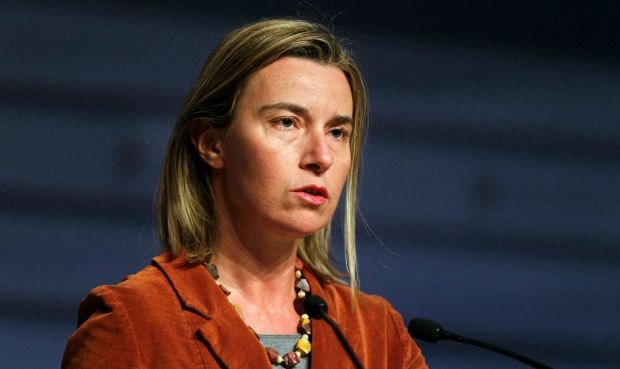 REUTERS
European Union foreign policy chief Federica Mogherini says that the full implementation of the Minsk peace agreements on Donbas, eastern Ukraine, remains a key element for any substantial change in relations between the European Union and Russia.
"On Russia, we shared with the foreign ministers a common assessment of the challenges faced in the EU's relations with Russia. We have seen an evolving pattern of a challenging Russian behaviour in many different fields. Central to this challenge is of course still the situation in Ukraine, with the illegal annexation of the Crimean peninsula and the de-stabilisation of eastern Ukraine that continue to this day," she said at a press conference following the Foreign Affairs Council in Luxembourg on Monday, April 16.
Read alsoMogherini: EU in full unity on Minsk implementation, reforms in Ukraine
According to her, other areas of challenging Russian behaviour include obviously the Russian posture in Syria, activities of disinformation, internal interference, hybrid threats, malicious cyber activities, and inside Russia a shrinking space for independent political voices, civil society, but also a decrease of respect for human rights and the rule of law.
"In our discussion today with the Member States we reaffirmed clearly that the five principles we defined together two years ago remain absolutely valid for our relations with Russia and we have seen what we can do differently or more under each of these five principles, maintaining the overall importance of all of them as a balanced approach.  First, the full implementation of the Minsk agreements remains a key element for any substantial change in EU-Russia relations," Mogherini said.
"We will continue to support the work of the Normandy format. We have looked at ways in which the European Union can help more, in particular Germany and France, to work for the full implementation of the Minsk agreements. In particular on the political level, but also with concrete steps in the humanitarian field, on de-mining, on the preparation for reconstruction in Donbas and obviously keeping strong coordination also within the UN framework," she said.
"Second, we will continue to strengthen relations with our eastern partners and other neighbours, especially after the very successful Eastern Partnership Summit we had [in November 2017], but also with the Central Asia Strategy that is coming up, keeping a policy of transparency towards Russia on our cooperation with our eastern partners and exploring cooperation in areas of mutual interest," she said.
"I have always made it very clear publicly, but also in our meetings with our Russian interlocutors that our friendship and partnership with our eastern partners is never against anyone, it is always cooperative, and we never think in a logic of spheres of influence," she added.
Third, according to her, is that it has been painfully evident with the Salisbury attack that there is the need to reinforce resilience inside the European Union. Members of the Foreign Affairs Council discussed how the European Union, together with Member States, can take forward the European Council decision to strengthen resilience to chemical, biological, radiological and nuclear-related risks, as well as to increase capabilities to address hybrid threats, including in the areas of cyber, strategic communication and counterintelligence.
"Fourth and fifth are principles related to engagement. You know that we have started a policy of selective engagement with the Russian Federation in areas where we see a European Union interest to do so, and Member States agreed that this is still a very much valid principle," she added.