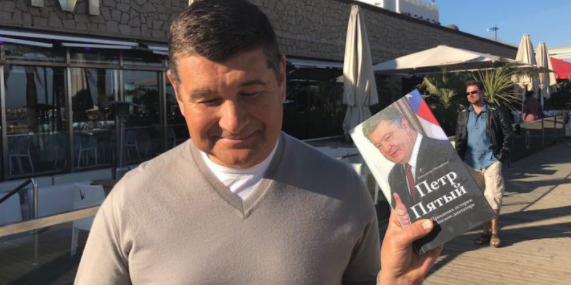 Strana.ua
Fugitive Ukrainian MP Oleksandr Onyshchenko has unveiled part of an audio file he claims he recorded secretly of his conversation with President Petro Poroshenko.
A man's voice Onyshchenko claims to be the president's is heard as the two discuss a number of "agreements" allegedly reached with former Minister of Ecology and Natural Resources Mykola Zlochevskiy on closing down criminal investigation against the MP.
The record was made public on the NewsOne TV channel on Wednesday.
The conversation starts with random questions voiced by "Poroshenko" about Onyshchenko's vacation. Further, the "president" is heard being interested about a person he calls "Yulia" (last name not mentioned). He asks: "How is Yulia?" Onyshchenko says she is on a vacation.
"She continues to 'muddy the waters' against me, I'm getting such reports," a man tells Onyshchenko.
The MP says he doesn't think so, but offers to arrange a meeting for them.
After that, the two men start talking about former Minister of Ecology and Natural Resources Mykola Zlochevskiy. He is involved in the gas business and has a significant impact on the market in Ukraine.
Read alsoSpain rejects Ukraine's extradition bid against fugitive MP Onyshchenko"I met Zlochevskiy in Dubai, he has been settling with [MP] Ihor [Kononenko] for a year. I don't know if you're getting reports about their agreements. Zlochevskiy asked me to talk with you and put forward some offers."
"When he meets Ihor, he is only interested in gas supplies to his company, and Mykola wants to settle the issue globally," Onyshchenko said.
Zlochevskiy, as allegedly Onyshchenko said, had bought out a "promising" company of a late Polish businessman named Kulczik. The company produces 20 million cubic meters of gas. He also bought a hydrofracturing company.
Zlochevskiy seeks to sign contracts with Naftogaz and other companies and share profits in half. The former minister wants to enter Ukraine with his western company as an investor to pay rent payments for business at only 2%.
Zlochevskiy also suggests that "Poroshenko" curtail all of the businessman's debts, register all gas assets on his company, and, most importantly, "share the economy 50/50."
Read alsoDirty deal traced to three Ukrainian tycoons – Al Jazeera (Video)"Yes, Mykola is a good guy. I'll think of what can be done. It's just the Americans have been on him lately," he said.
Onyshchenko assures his interlocutor that the U.S. will not interfere in the case since the son of Senator Joe Biden plays a significant role in Zlochevskiy's business.
Then, "Poroshenko" says that in a week he will give an answer on the issue of assisting Zlochevsky when he settles the issue with "Yulia," who has not yet returned from her vacation.
In turn, Presidential Press Secretary Svyatoslav Tsegolko has called the record fake.
"The position is known – fake news does not need comments," Tsegolko told journalists on Thursday, an UNIAN correspondent reported.
UNIAN memo. On December 1, 2016, Onyshchenko claimed he had handed over to the U.S. security services "compromising evidence" against Ukrainian President Poroshenko.
The deputy said that for about a year, he has been secretly recording his conversations with the head of state with a wristwatch-type device. In addition, Onyschenko accused the Presidential Administration of buying up votes in the Verkhovna Rada for cash that was passed through him and several other deputies.
Subsequently, on December 6, an audio recording of Onyshchenko's conversation was allegedly made with the MP Oles Dovhyi. On the tape, interlocutors discuss the scheme of closing a criminal case against Onyshchenko.
Dovhyi confirmed that he had twice met with Onyschenko while abroad. However, he said, he simply persuaded Onyshchenko to cooperate with the investigation, compensating for the damage caused to the country's budget.
February 9, Onyshchenko through the media unveiled the second part of his tapes allegedly with Ukrainian high-ranking officials. He claimed that in the records, the voice of former People's Deputy Mykola Martynenko was heard. The record was published by Strana.ua.
As Onyshchenko said, Martynenko acted as another mediator in the negotiations between him and the president.
On March 19, 2018, Onyshchenko stated that he had at least one record of the conversation, where Ukrainian President Petro Poroshenko allegedly threatened him with criminal cases "if somebody fails to vote for his laws."