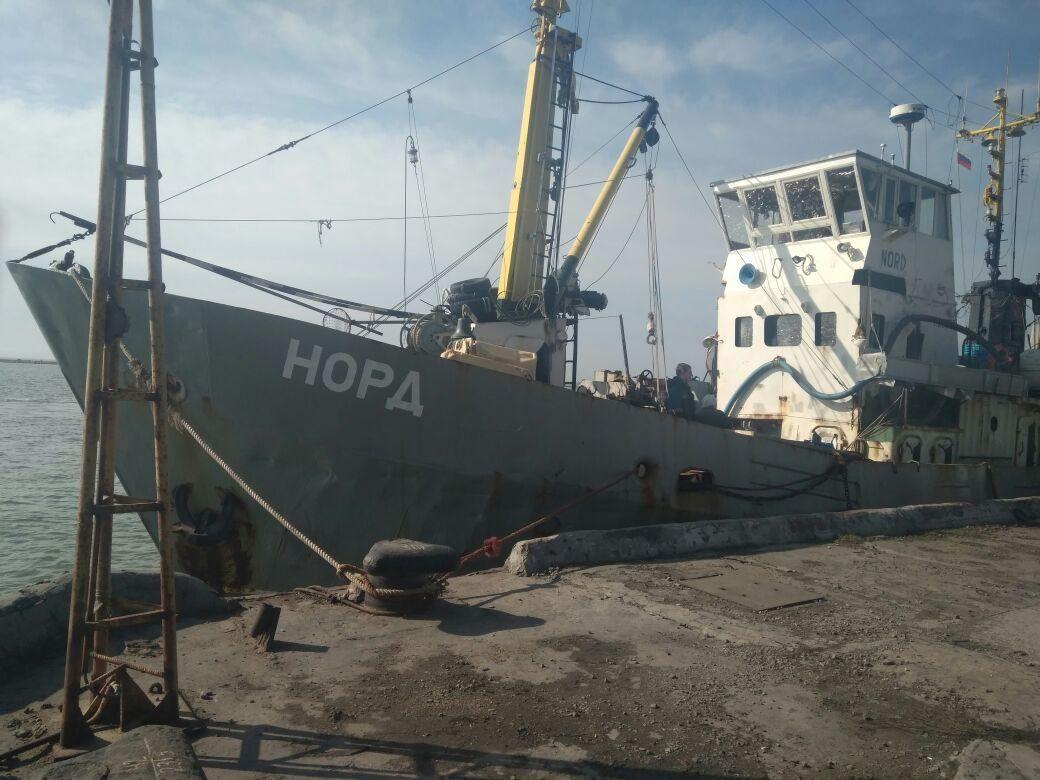 The Nord vessel / Photo from dpsu.gov.ua
Two crew members of the Crimean-registered Nord fishing vessel seized in Ukraine have managed to flee to Belarus, using Russian-issued passports.
The two men on the morning of April 19 registered at Kyiv International Airport for a flight to Belarus as citizens of Russia and presented Russian passports issued by the Consulate General of Russia in Ukraine's Kharkiv when going through passport control, the press service of the State Border Guard Service of Ukraine said.
According to the border guards, as the spelling of the two citizens' surnames in the Russian passports differed from the identification data of the Nord crew members in the Ukrainian database, they were allowed to pass the border and leave for Belarus.
The crew members once were citizens of Ukraine before the annexation of Crimea by Russia in March 2014. They were granted Russian citizenship in Russian-occupied Crimea, which is not recognized by the Ukrainian authorities.
On the afternoon of April 19, the Ukrainian border guards did not let seven more members of the Nord's crew to register for a flight to Minsk.
The State Border Guard Service of Ukraine insists that "there are grounds to consider that the documents which allegedly confirm their Russian citizenship were issued unlawfully to the Ukrainian citizens who are the Nord's crew."
Read alsoCaptain of seized Crimean vessel faces another indictment
As UNIAN reported earlier, the Russian-flagged and Crimea-registered fishing vessel Nord operated by a crew of 10 was seized by the Ukrainian Border Guard Service in the Sea of Azov on March 25 on charges of infringements on the Ukrainian border crossing rules in relation to the occupied territory. The vessel and crew were brought to the Ukrainian port of Berdyansk. The Prosecutor General's Office of Ukraine announced that the captain of the Nord, Volodymyr Horbenko, who turned to be a citizen of Ukraine, was indicted on March 31 under Part 2 of Article 332-1 (violation of entry/exit rules into/from temporarily occupied territory of Ukraine) of the Criminal Code of Ukraine.
On April 8, the Ukrainian Border Guard Service reported an attempt to smuggle the Nord's crew in Russian diplomatic cars through the Hoptivka checkpoint in Ukraine's Kharkiv region. The sailors presented Russian-issued emergency travel documents instead of passports. The border guards drew up a report on the incident and returned them to Ukraine.
On April 9, they made a second attempt to cross the Ukrainian border, having chosen the Chonhar checkpoint, but the Ukrainian border guards did not let them do it.
On April 10, Horbenko was indicted on new charges – illegal fishing.