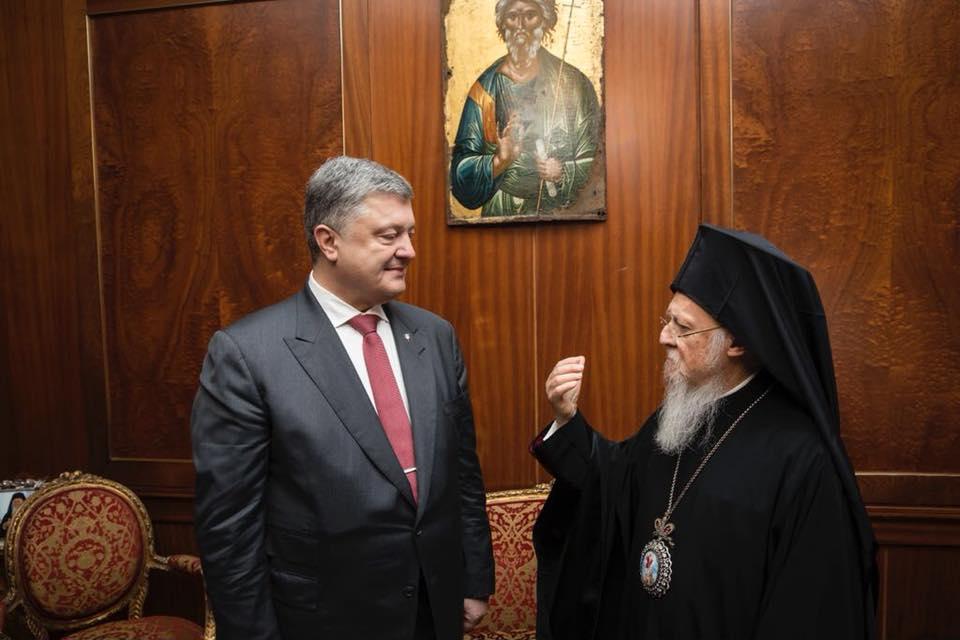 Petro Poroshenko / Facebook
The Ecumenical Patriarchate is launching procedures required for granting autocephaly to the Ukrainian Orthodox Church, according to Ukrainian President Petro Poroshenko.
"The relevant decision has been taken by the Holy and Sacred Synod of the Ecumenical Patriarchate following its receipt for consideration of a president's appeal to the Ecumenical Patriarch Bartholomew for the provision of a tomos on autocephaly of the Orthodox Church in Ukraine, a Verkhovna Rada Decree in its support, as well as relevant appeals of hierarchs of the Ukrainian Orthodox churches," the president wrote on Facebook.
Read alsoUkraine's parliament backs appeal to Bartholomew to create independent UOCAs UNIAN reported earlier, at a meeting with leaders of parliamentary factions April 17, Petro Poroshenko announced that he and the hierarchs of the UOC of the Kyiv Patriarchate and Ukrainian Autocephalous Orathodox Church decided to officially address Ecumenical Patriarch Bartholomew I with a request to grant autocephaly to the Orthodox Church in Ukraine, and called for the parliament to support the appeal.
On April 19, the Verkhovna Rada adopted a resolution on supporting the president's appeal to the Ecumenical Patriarch.
Russian President's Press Secretary Dmitry Peskov said the Kremlin could support the creation of Ukrainian Orthodox Church (UOC), calling it a "split."