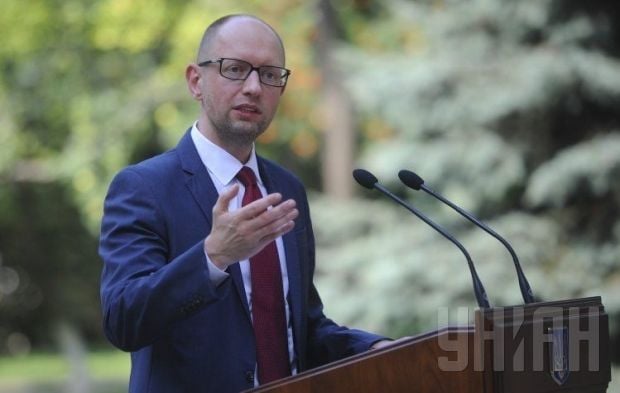 PM Yatseniuk has named possible members of the new cabinet / Photo by UNIAN
The seats in the new Yatseniuk cabinet, if the prime minister'r proposals are accepted by the president and the parliament, would be distributed as follows:
Deputy Prime Minister for Regional Policy – Volodymyr Hroisman (incumbent);
Deputy Prime Minister for Humanitarian Affairs - Ihor Zhdanov (Batkivshyna MP);
Deputy Prime Minister for Agrarian Affairs - Ivan Miroshnichenko;
Minister of Justice - Pavlo Petrenko (incumbent);
Minister of Internal Affairs - Arsen Avakov (incumbent);
Minister of Social Policy - Pavlo Rozenko (Bloc of Petro Poroshenko MP);
Minister of Health Vasyliy Lazoryshynets (current acting Minister of Health);
Minister of Culture - Yevhen Nyshchuk (incumbent);
Minister of Energy and Mines - Andriy Kobolev (now-head of Naftogaz Ukrainy);
Minister of Education and Science - Serhiy Kvit (incumbent);
Minister of Economy - Dmitry Shimkiv (current deputy head of the Presidential Administration);
Minister of Agrarian Policy and Food - Leonid Kozachenko;
Finance Minister - Vitaly Lisovenko (currently Deputy Minister of Finance);
Minister of Youth and Sports - Denis Silantyev (well known swimmer, Radical Party MP);
Minister of Environment and Natural Resources - Hanna Hopko (first on the Samopomoich party list);
Head of the Public Broadcaster - Yuriy Stets.
Yatseniuk also proposes to appoint a European politician as deputy prime minister for European integration.
All candidates for the new government must still be approved by the future coalition, and then their candidacies approved by a vote of the new parliament.
The post of Chairman of the Verkhovna Rada, or speaker of parliament, which is currently held by Oleksandr Tuchynov, a Yatseniuk ally and Maidan protest leader who was acting president of Ukraine from late February until the May 25 presidential election, is still open.
Yatseniuk said that agreement on the formation of the coalition has yet to be reached.