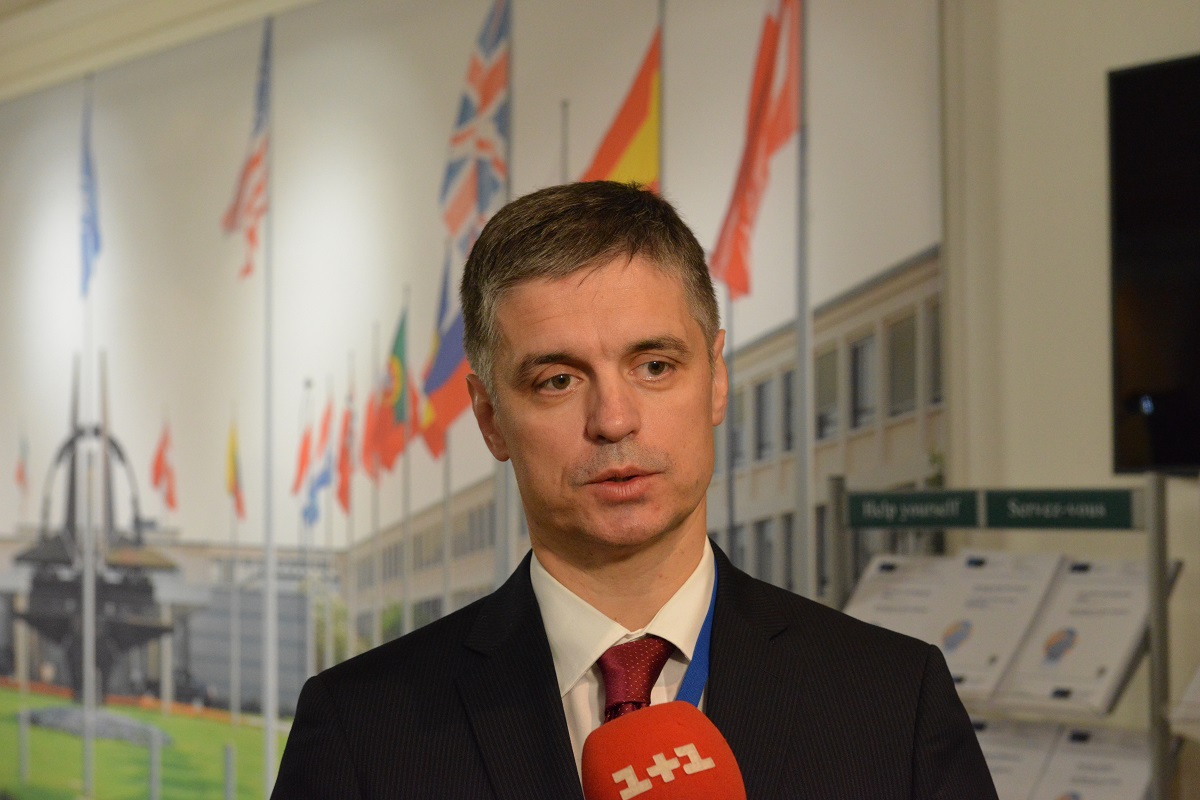 Photo from UNIAN
Head of Ukraine's Permanent Mission to the North Atlantic Treaty Organization (NATO), Vadym Prystaiko, says that the decision to hold the meeting of the Ukraine-NATO Commission within the framework of the Alliance summit in Brussels this July depends on Hungary and all of the Allies.
The comments came as Prystaiko spoke with Ukrainian journalists in Brussels today, following a statement by Hungarian Foreign Minister Peter Szijjarto that the holding of the meeting depends on Ukraine, an UNIAN correspondent reports.
On April 27, NATO Headquarters hosts a meeting of the Alliance's foreign ministers. Hungary has once again blocked the meeting of the Ukraine-NATO Commission over its row with Ukraine on the new education law adopted by the Verkhovna Rada.
Prystaiko said, "We are ready, and the president is ready to come in July to attend the summit."
Read alsoBlocking of NATO-Ukraine Commission by Hungary annoys both Kyiv and Alliance - Prystaiko"As far as we understand, there is still no invitation to the Ukraine-NATO Commission meeting, and here the decision depends on Hungary and the whole Alliance."
According to the Ambassador, the Ukrainian side is doing everything to ensure that the event is held. "We are interested in this. We do all necessary steps to this end. Our serious problem is how they are being perceived by the Hungarian side. I am concerned about Hungary fetishizing this process, bringing it to the point of absurdity, collecting arguments that go beyond the language legislation," he stressed.
Read alsoRussia's growing influence on Hungary "threat to EU" - deputy ministerPrystaiko notes that the Ukraine-NATO Commission is "an important format for us."
"If NATO, for various reasons, in particular, because of Hungary's position, cannot invite [Ukraine] to the Ukraine-NATO Commission, we will look for other options to hold meetings and deliver our message," the Ambassador added.
As UNIAN reported earlier, in April Hungary for the third time blocked the Ukraine-NATO Commission meeting at the ministerial level.
Read alsoHungary unhappy with Ukraine's plans to sanction dual nationalityEarlier, in March, Szijjarto demanded that Ukraine amend the law on education and postpone its implementation until 2023, otherwise he said Budapest would be blocking all meetings important for Ukraine at the European Union and NATO levels.
In particular, he noted that Hungary would block the holding of the Ukraine-NATO Commission meeting at the ministerial level in April, as well as in July.