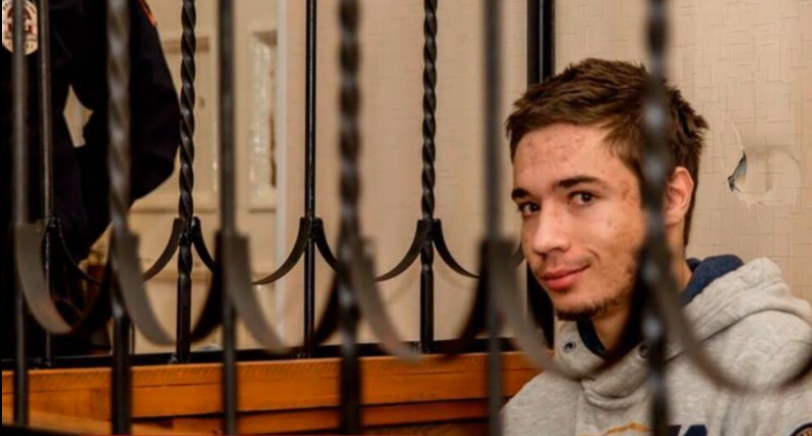 Screen from a TV report
Krasnodar's Oktyabrsky court in Russia has extended the term of arrest of 19-year-old Ukrainian Pavlo Hryb, who was in August 2017 abducted from Belarus by the Russian security force and illegally arrested in the Russian Federation, for another two months, until July 4.
The court met behind closed doors on Saturday, April 28, Pavlo Hryb's father, Ihor Hryb, told the Ukrainian news outlet Hromadske.
Read also"Pavlo's life in danger!" – Father of Kremlin's teen prisoner says son's health deteriorating dramatically
Having seen the Ukrainian consul and the mother of Pavlo Hryb in the courtroom, the judge asked them to leave. The mother was not allowed to meet her son in person.
"As soon as they saw the mother and the Consul General in the room, the judge announced that the meeting should be closed and they were asked to leave," the Ukrainian prisoner's father said.
For more than eight months since Hryb has been in jail, he has not been allowed to meet with his mother.
"Since then, we've received only one letter from him, and he has received one letter from one Ukrainian citizen," the father said.
During imprisonment, Pavlo Hryb's eyesight has deteriorated significantly, Ihor Hryb continued. "Given the illness of Pavlo, one cannot hope for improvement ... Recently, Pavlo had to put a strain on his eyes to see what was in the documents he was given to sign during recent interrogation," he added.
On April 26, Hryb's father reported that the Russian security forces had increased psychological pressure on Pavlo.
As UNIAN reported earlier, a member of the State Border Guard Service's public council, Ihor Hryb, announced on August 28, 2017, that his 19-year-old son, Pavlo Hryb, had gone missing. Pavlo reportedly disappeared in Belarus on August 24, after he had traveled to the city of Gomel to see a Russian girl whom he met on social networks and who had allegedly flown to Gomel. The youngster's father said Pavlo was supposed to return on the same day. When it did not happen, the father went to Gomel in search for his son.
He found out that Pavlo was wanted by the FSB in Krasnodar Krai (Sochi) under Article 205 of the Criminal Code of the Russian Federation (an act of terrorism). Later it became known that Russian investigators had accused Pavlo Hryb of allegedly plotting a terrorist attack at a school assembly in Sochi.
On March 2, 2018, a district court in Krasnodar ruled to hold Pavlo on remand until May 4.
Pavlo Hryb is diagnosed with portal hypertension, which requires daily intake of necessary medications and a special diet, without which there is a risk of death.
The Russian authorities do not provide him with proper medical treatment. Neither do they allow Ukrainian doctors to visit the teenager and examine his health.