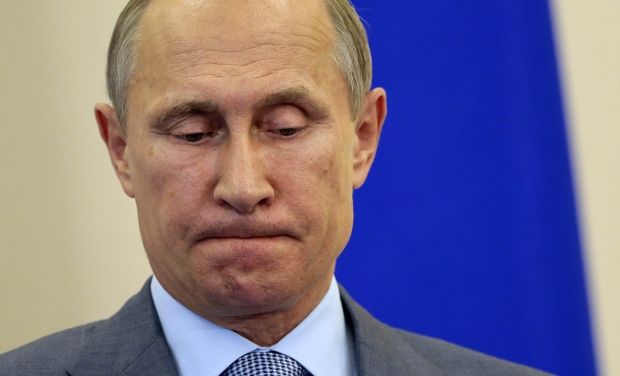 REUTERS
"We will have a long flight, first, nine hours to Vladivostok, then nine hours to Moscow, and tomorrow work, with only four hours left for sleeping" he said while explaining his early departure, Russian newspaper Vedomosti wrote.
Putin left Brisbane on Sunday morning, before the adoption of the summit's final communique.
Western journalists said the Russian president was isolated at the summit, and the cold reception he got was confirmed by the group picture of the leaders of G20, where Putin stands at the end of the row of top leaders, well apart from the others.
U.S. President Barack Obama and Chinese President Xi Jinping were met at the airport by the Governor-General of Australia, while Putin was welcomed by and assistant secretary of to the country's defence minister. During a meeting with Putin at the sidelines of the summit, Canadian Prime Minister Stephen Harper shook his hand and then told Putin that Russia had to "get out of Ukraine", Bloomberg reports.
The Ukrainian crisis was the main topic on the bilateral meetings, although the official agenda did not include discussions on the situation in Ukraine. In Brisbane, Putin held talks with five European leaders and Australian Prime Minister Tony Abbott, with one of the key meetings being with German Chancellor Angela Merkel. That four-hour discussion was then joined by European Commission President Jean-Claude Juncker.
According to one of the members of the German delegation, Merkel was dissatisfied with the outcome of the talks, although initially there had been little hope of a major breakthrough in the situation, with tensions having been heightened by a recent round of diplomatic expulsions. According to Vedomosti, Merkel gave the impression that Germany may not view Russia as a strategic partner any more.
Putin arrived in Brisbane to discuss Ukrainian crisis with European partners, and not the problem of the global economy, according to Charles Austin, an expert on foreign relations at the Chicago Council. In his opinion, the most important for Moscow were the talks with Merkel, who sets the tone of European diplomacy. But the talks did not bring any breakthrough, resulting in a further cooling of relations with the West, and due to Putin's intransigence, the West will decide independently to take actions in response to the continuing crisis in Ukraine.