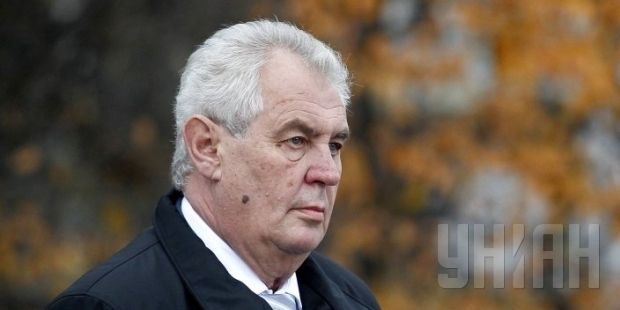 Zeman has said previously he doesn't think there are Russian soldiers in east Ukraine / Photo by UNIAN
"We must understand that a civil war is raging in Ukraine," Zeman said.
 "We should not engage in some kind of dreaming about support, including financial support, for Ukraine, because during a civil war the provision of economic support is completely nonsensical," he said.
"Well, the first step must be an agreement between Ukrainians and Ukrainians. And only then we may negotiate gas contracts or a contract on preventing Ukraine from bankruptcy, as the risk is real, and under conditions of the civil war, any economic assistance is only a waste of money."
Czech President also said he was pessimistic about the chances for the settlement of the Ukrainian crisis in the near future, noting that in order to avoid bankruptcy, it is necessary to end the "civil war."
Zeman once again criticized the EU sanctions against Russia, saying that he was not the only European leader skeptical of the policy.
"Sanctions are a loss-loss strategy, a strategy under which all are losing, and no one gains any advantage," he said.
"This [affectcs] not only the Czech Republic, but Slovakia, Hungary, and most likely even Austria. Slovak Prime Minister Robert Fico has expressed even stronger misgivings as regards sanctions than even the Czech Republic. Some European countries are also somewhat hesitant."
As earlier reported, Zeman is the only European leader who has said publicly that he does not believe Russian troops have entered eastern Ukraine.

Speaking in early September, Zeman said he believed Russian Foreign Minister Sergei Lavrov's assurances that there were no Russian troops in the Donbas, and that the fighting in Ukraine was a purely civil conflict.
 
His claims were very much at odds with those of NATO and other Western leaders, and were criticized by Swedish Foreign Minister Carl Bildt, who said Zeman could ask the Czech intelligence service about the issue.