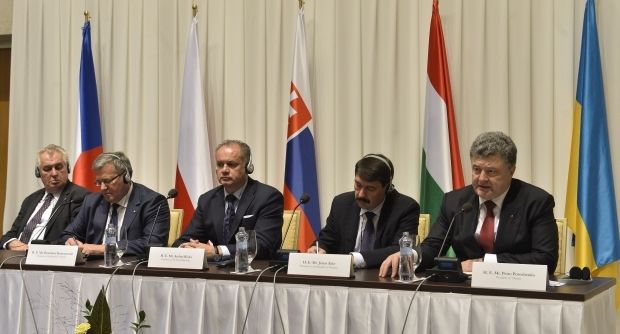 REUTERS
"In particular, we have agreed to establish permanent interaction between the Ministers of Foreign Affairs and Defense of the Visegrád Group and Ukraine," Poroshenko said.
The Visegrád Group is made up of the Czech Republic, Poland, Hungary and Slovakia. 
Poroshenko that the support that Ukraine had received Bratislava was very much required.
"All of the countries said that we were dealing with aggression," Poroshenko said.
"We need to demonstrate the unity and solidarity of the whole of Europe with Ukraine on security and the economy, and I saw this solidarity and support in Bratislava."
Poroshenko thanked the leaders their firm and clear position, and also noted that he was pleased by the tone of their conversation, with the talks focusing on the question of support for Ukraine.
"I've heard the position of the leaders: if you need support, we will come to help. This is exactly what we need now in Ukraine," Poroshenko said, adding that the most important topic of their talks was the issue of security.
"This is a war for freedom and democracy for the whole of the EU," Poroshenko said.
President of Poland Bronisław Komorowski, in turn, thanked the president of Slovakia for inviting the Ukrainian president to the Visegrád Group meeting. He said he believed this format of cooperation was very necessary today. The Visegrád Group is solid in its support for Ukraine, which is resisting Russian aggression, he said. He also said he supported the idea of establishing permanent channels of interaction between the Visegrád Group and Ukraine at various levels.
President of Hungary Áder János thanked Poroshenko for his attempts to seek a peaceful resolution of the conflict in the east of Ukraine.
"Hungary has implemented all the decisions to impose sanctions on the Russian Federation from the very beginning, and will do so in  future," Áder said.
Czech President Miloš Zeman said that if he had been a citizen of Ukraine, he would have chosen the Bloc of Poroshenko at the early parliamentary elections in May.
"I believe that the President Poroshenko will enter history as a president of peace," he said.
Slovak President Andrej Kiska said that all countries of the Visegrád Group were solidly with Ukraine, and that more sanctions against the aggressor would be necessary if dialog failed.