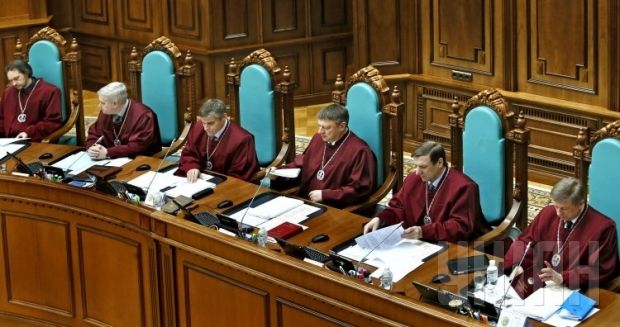 UNIAN
According to an UNIAN correspondent, the Supreme Court of Ukraine made its request at a full meeting in Kyiv on Monday after a long debate among its judges.
A total of 27 out of 43 Supreme Court judges voted in favor of asking the Constitutional Court to make such a ruling, with 15 judges voting against.
Chairman of the Supreme Court of Ukraine Yaroslav Romaniuk noted in his speech the fact that following the entry into force of the law on lustration he was contacted by judges of several Kyiv-based courts, as well as the Specialized Higher Court of Ukraine for Civil and Criminal Cases.
According to Romaniuk, the judges said that the provisions of the law on lustration violated their rights, undermining their judicial independence.
In particular, the Supreme Court of Ukraine considers unconstitutional the provision of law on dismissal of judges who at the time of the protests in Kyiv gave permission for the arrest activists or took allegedly politically motivated decisions regarding such arrests. Without verifying the activities of each individual judge, a decision on their lustration is a violation of the Constitution, according to the court.
Furthermore, Romaniuk said these judges are to be released in accordance with the previously approved Law "On the restoration of confidence in the judicial system." According to Romaniuk, the judges may suffer double punishment, which is a violation of their rights.
The plenum of the Supreme Court of Ukraine also concluded that the dismissal, under the law on lustration, of members of the High Qualification Commission of Judges of Ukraine, the State Judicial Administration and the Supreme Council of Justice due to their activities during the protests was also deemed a violation of the principle of personal responsibility.
According to the participants of the Supreme Court meeting, it is necessary prior to lustration to verify whether an official supported the usurpation of power by ex-president Viktor Yanukovych.
Considering this, the Supreme Court of Ukraine is requesting that the Constitutional Court consider its request without delay.
The law on lustration entered into force on October 15. It defines the legal and organizational framework for examining the activities of public servants and local government officials in order to restore confidence in the government so as to lay the foundations of a new government system in accordance with European standards and based on the principles of the rule of law and legitimacy; openness, transparency and publicity; presumption of innocence; individual responsibility; and guaranteeing the right to legal defense.