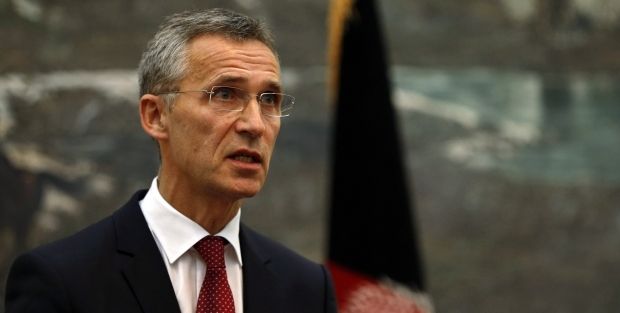 REUTERS
"We are seeing that Russia is continuing to destabilize Ukraine, [and] we are also seeing the movement of troops, equipment, tanks, artillery and air defense systems," Stoltenberg  said in Brussels on the eve of a meeting of defense ministers of EU member states, according to an UNIAN correspondent.
"This is a violation of the ceasefire. We call on Russia to withdraw its troops from eastern Ukraine and respect the Minsk agreements."
Stoltenberg said NATO has received information about Russia's increased military presence in Ukraine and on the Russian side of the border from various sources.
"We are talking about combat units, equipment, artillery and modern air-defense systems. This is a serious military build-up, and we call on Russia to withdraw its troops and join in a peaceful solution," Stoltenberg said.
"The crisis has been caused by the actions of Russia. Russia has a choice - it can be part of a peaceful solution, or continue on the path of isolation. The international community calls on Russia to be part of a peaceful settlement of the Ukrainian crisis, and we appeal to Russia to withdraw its troops, respect the Minsk agreements and cease to fuel conflict in Ukraine by supporting the separatists."
According to the secretary general, NATO will "do everything that it can" to ensure a peaceful resolution of the crisis in eastern Ukraine.
"I welcome the efforts of the EU and German Chancellor Angela Merkel for trying to achieve a peaceful solution. It is important for us and Ukraine," Stoltenberg said.
He again said that Ukraine had the full support of NATO and the EU.
"We - NATO and the EU - also fully support Ukraine's sovereignty and territorial integrity," he said.
In addition, Stoltenberg said he appreciated the "very important" work being done by the OSCE Special Monitoring Mission in Ukraine.
The OSCE last week said that Russian-backed militants in the Donbas conflict zone were preventing the organization from fulfilling its mandate to ensure the observance by all sides of the September 5 Minsk Protocol on ending the conflict in the east of Ukraine.