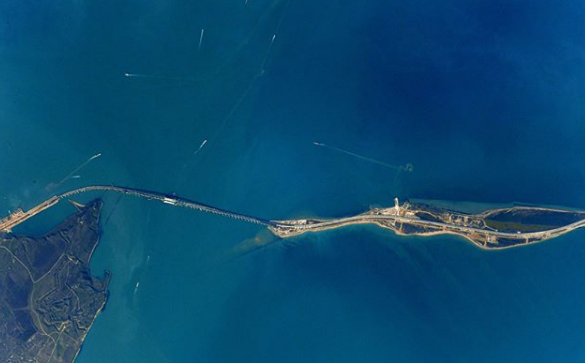 Instagram anton_astrey
Deputy Chairman of the Mejlis of the Crimean Tatar People Ilmi Umerov has said the Crimean bridge, which links Russia with the Russian-occupied peninsula, has become "a bridge to nowhere" for the occupiers, and the huge funds spent on its construction will not pay off.
Read alsoCanada condemns opening of Crimean bridge by Russia
"It all started with a small amount of money, and then there was a report that the costs of the Crimean bridge were increasing... There is a very large corruption component there, and as the case with any road construction project, kick-back schemes are very large in the construction of bridges, especially when Putin's friend [oligarch Arkadiy Rotenberg] was building it," Umerov told ObozTV.
According to him, "this is a bridge leading virtually to nowhere, a bridge to a dead end."
"Such a huge amount of money was spent to make a dead end out of the small area, which the Crimean peninsula is... Because there is almost no road to Kherson [in mainland Ukraine]," Umerov explained.
"This bridge is unlikely to justify itself from the economic point of view in the near future. It was probably built for political rather than economic reasons, and of course with the aim of large-scale money laundering from the budget," the Mejlis representative said.
According to Umerov, for tourists who will travel from Russia by cars, "it will be a bit easier to get to Crimea, but Crimea is not waiting for them with open arms, prices there are higher than in Moscow."