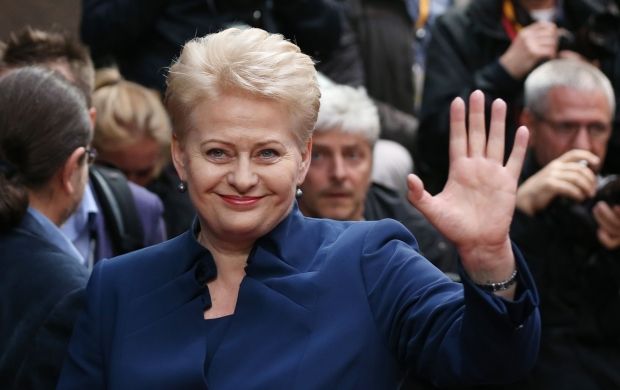 REUTERS
"I will discuss it with your government and the [Ukrainian] president on Monday," Grybauskaite said.
"I'm also accompanied by three ministers – the Minister of Foreign Affairs, Minister of Defence and the Minister of Energy. These portfolios should tell you something," said Grybauskaite.
She also noted that she supports the idea of the EU providing  military assistance to Ukraine.
"I think that there should be a lot of initiatives [regarding EU assistance] today, especially when it comes to military assistance to Ukraine," Grybauskaite said, saying that such assistance should come in both economic and financial forms.
Grybauskaite also said that not all of the aid would come in the form of money.
"Sometimes a flow of money may be poorly channelled, or corrupt, and thus useless. And that is the problem with Ukraine. We are ready to help, but until Ukraine eliminates corruption in state governance, any amount provided will be in vain," Grybauskaite said.
"This issue will also be discussed by your leaders," she added.
"The absolutely corrupt state apparatus, as well as the legal system, represent the weakest link, effectively used by Kremlin for its own purposes. This raises a lot of doubts in [the minds of] EU donors," said Grybauskaite.
Despite the fact that the daily life in Ukraine is plagued by war, the implementation of reforms cannot however be postponed, she said.
"All this has to be done at the same time," Grybauskaite said.