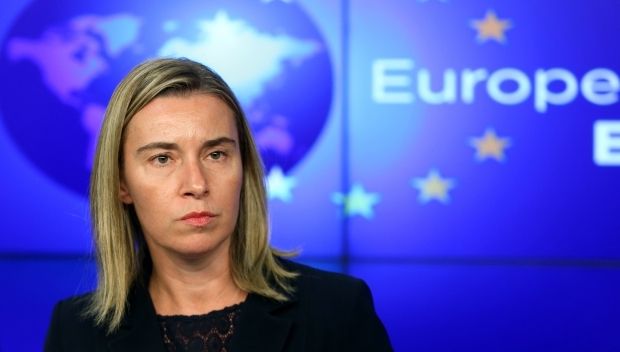 REUTERS
Speaking in an interview with Austrian newspaper Kurier published on Monday, Mogherini said Russia is a strategic country, but not a strategic partner for the EU at the moment. She said Russia was responsible for the security situation in the east of Ukraine, and that cooperation was needed with it to improve the situation there.
Asked about her plans to "reset" the EU's relationships with Russia, she said that this would depend solely on Russia. Russia, she noted, has close relationship with the EU and is extremely important in terms of common geography, history, culture, economy and energy. But Russia's position towards Ukraine does not reflect partnership relations with the EU, Mogherini said.
Commenting on Russia's concerns over NATO's eastward  expansion, the EU foreign minister said that Russia should not consider NATO as an enemy, adding that NATO considers Russia as a potential partner, and going back to the days of the Cold War is seen as impossible.
When asked about mistakes of the EU policy with regard to the conflict between Ukraine and Russia, Mogherini assumed that the dialogue that the EU has been conducting with Ukraine and Russia, should have been started earlier.
Mogherini also said the European Union has expectations of Kyiv, namely, respect for people's culture and language, an autonomous status for the eastern regions and the implementation of institutional reforms. There are many refugees from the conflict zone, and the provision of humanitarian aid is crucial, she said. The fight against corruption should be continued and the economy should get back on track, with Ukraine itself being responsible for the transformation, she said.
She said there are both medium and long term security measures to be adopted, and the problem of the EU is in its late response to the threats that arise. Security is an issue that requires a long term approach, which, in the end, proves more effective and less expensive, she said.
Mogherini's full interview with Kurier (in German) is at http://kurier.at/politik/inland/interview-mogherini-will-restart-mit-russland/98.707.167