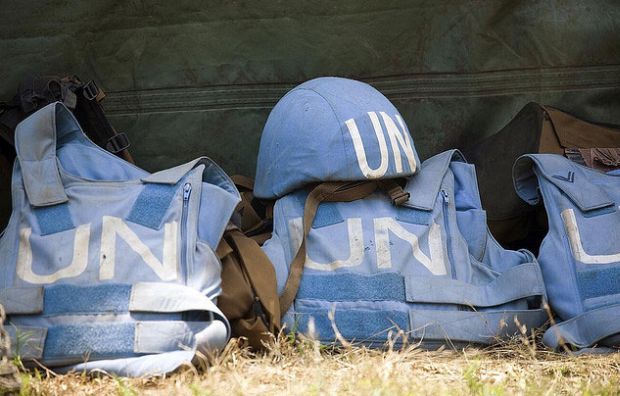 http://www.un.org/
Ukrainian Prime Minister Volodymyr Groysman says Ukraine will continue to actively defend its position on the deployment of the United Nations peacekeeping mission in Donbas.
In his address on the occasion of the International Day of UN Peacekeepers, the head of government said this year marks 70 years since the foundation of the UN peacekeeping mission. Since then, peacekeepers have gone on over 70 missions of varying degrees of complexity in various hot spots across the globe.
"UN 'Blue Helmets' have become a symbol of humanity's aspirations for universal brotherhood and peace, as well as a symbol of hope for people whose land suffers from war," Groysman said.
"Unfortunately, the issue of United Nations peacekeepers is also relevant for our country today. Military, information, economic and cyber aggression of the ruling regime of the Russian Federation and long-term hostilities in the east of our country force us to declare the need for a peacekeeping mission in certain regions of Donetsk and Luhansk regions," he said.
Read alsoPoroshenko: Russian troops will leave Donbas when international peacekeepers deployed"The situation is also complicated by the fact that the approval of the aggressor state in the UN Security Council, with whom we have a different vision of this mission, is required to introduce peacekeepers to Donbas. However, Ukraine is determined to continue to actively defend its position. We will urge the world community to make active efforts in this direction, since every day of delay costs us the lives of our defenders," Groysman added.
He noted that in order to achieve its goals, the UN peacekeeping mission should have broad powers and be deployed throughout the conflict zone, in particular on the uncontrolled section of the Russian-Ukrainian border.
"I am confident that with the support of the international community and thanks to the courage of our fighters, we are able to return peace to Ukraine and restore the territorial integrity of the country," Groysman stressed.