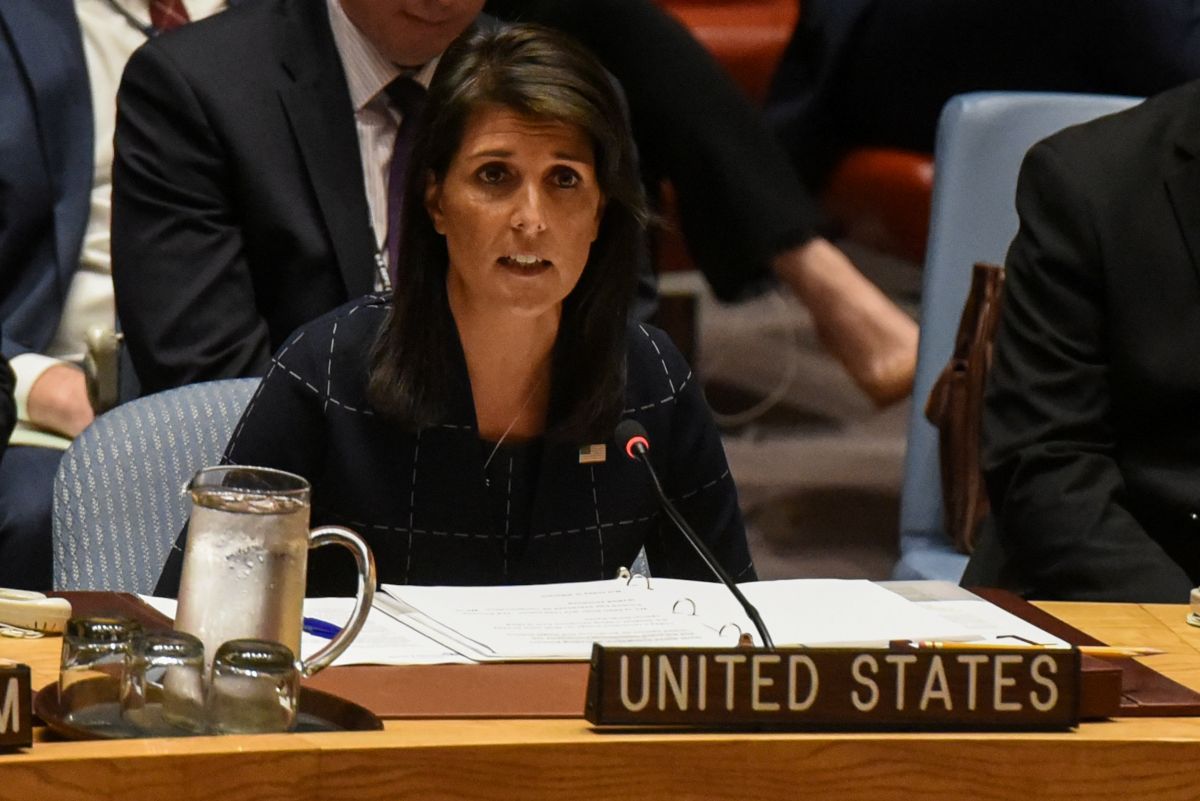 REUTERS
U.S. Ambassador to the United Nations Nikki Haley on Tuesday called on Russia to withdraw from Ukraine and acknowledge its alleged role in the 2014 downing of a commercial plane, following a recent flare-up of violence in the conflict.
"We condemn, in the strongest terms, Russia's involvement in eastern Ukraine and its purported annexation of Crimea," said Haley, promising U.S. sanctions will remain in place until Russia withdraws from the long-simmering conflict, which she called "a textbook example of the direct violation of the sovereignty of one (UN) member state by another member state," according to CNN.
Haley made the appeal at a UN Security Council meeting on the conflict Tuesday, during which representatives were briefed on recent instability in the region.
Haley further accused Russia of creating "a catastrophe of suffering," by supporting separatist groups and violating its obligations under an international ceasefire agreement.
"Despite its transparent denials," said Haley, "there is no doubt Russia is driving the Ukrainian conflict."
Read alsoU.S. Embassy calls on Russia to withdraw forces after Ukrainian teenage girl killed in DonbasShe also offered her support to Australia and the Netherlands, after those countries asked Russia to acknowledge its role in the downing of Malaysia Airlines Flight MH17, which was shot down over eastern Ukraine in 2014.
An investigative team determined last week that the missile which brought down the passenger plane was fired from a launcher belonging to Russia's 53rd anti-aircraft missile brigade.
For his part, Russian Ambassador to the United Nations Vassily Nebenzia mocked "pathetic expressions" accusing Russia of aggression as "propaganda."
"We are not in a state of war with anyone," insisted Nebenzia in his characteristically impassioned remarks, which were often laced with sarcasm and peppered with heated criticism of the Ukrainian government.
Read alsoUkraine to actively defend its position on deployment of UN peacekeepers in Donbas – GroysmanHe insisted that it is Kyiv, not Moscow, that has undermined the ceasefire and stoked the conflict.
Speaking for more than half an hour, Nebenzia dismissed Haley's criticism, noting the United States' "long history of illegally invading sovereign states."
He further questioned the investigative team's findings on the downing of MH17, and called for a "credible" and "transparent" investigation into the tragedy.