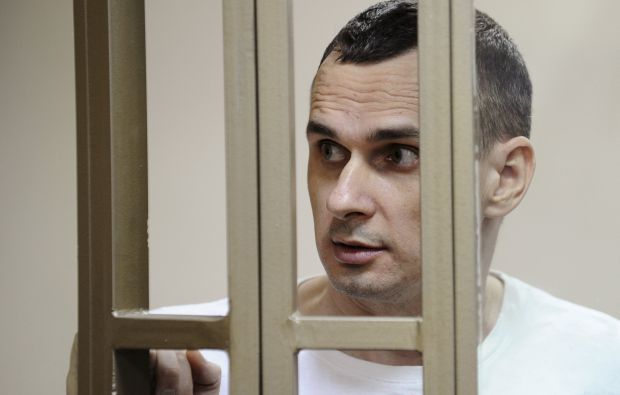 REUTERS
In the course of the proceedings on violations of the rights and freedoms of citizens of Ukraine Oleksandr Kolchenko and Oleh Sentsov, Verkhovna Rada Human Rights Commissioner Liudmyla Denisova is initiating a declaration to be submitted to Secretary General of the Council of Europe, Thorbjorn Jagland, defining the term "national" under the Convention on the Transfer of Sentenced Persons.
On Wednesday, Denisova met with Deputy Minister of Justice of Ukraine Serhiy Petukhov to be briefed on the Ministry's efforts in the framework of the Convention on the Transfer of Sentenced Persons (1983), the Ombudsperson's press service reported.
At the meeting, Denisova stressed that in Art 3, Par 4, "Conditions for transfer" of the Convention, it is stated: "Any State may, at any time, by a declaration addressed to the Secretary General of the Council of Europe, define, as far as it is concerned, the term "national" for the purposes of this Convention."
According to Petukhov, Ukraine has not done this yet. Therefore, the Ombudsman is initiating a declaration to the Secretary General of the Council of Europe, in which the term "national" will be defined.
Read alsoKremlin: Putin, Macron did not discuss Sentsov-Vyshinsky swapIn particular, the document will state the fact that all nationals who were living in Crimea at the time of its annexation were and still are Ukraine nationals. After all, the whole civilized world recognizes Crimea part of Ukrainian territory.
The Ombudsperson stressed that Russia refused to hand over to Ukraine Sentsov and Kolchenko in accordance with the Convention on the Transfer of Sentenced Persons since Moscow did not recognize their Ukrainian citizenship. At the same time, Denisova emphasizes that the argument of the Russian side regarding the automatic acquisition of Russian citizenship by the two men following Crimea annexation cannot be accepted, since this contradicts the peremptory norms of general international law.
Read alsoSpectacular action held in New York in support of Oleh Sentsov
UNIAN memo. A Ukrainian film director Oleh Sentsov and Ukrainian activist Oleksandr Kolchenko were detained by Russian security agents in Crimea in May 2014 on charges of plotting terrorist attacks on the peninsula. In August 2015, the North Caucasian District Military Court in Rostov-on-Don sentenced Sentsov to 20 years in a high-security colony on charges of terrorism in Crimea. Kolchenko got a 10-year sentence. Neither convicts plead guilty. On May 14, Sentsov, who is held in the colony of the city of Labytnangi (Yamalo-Nenets Autonomous District of Russia's distant Tyumen Region), declared an indefinite hunger strike with the only demand for the release all 64 Ukrainian political prisoners of the Kremlin. Kolchenko is serving his sentence in Correctional Facility No. 6 (Kopeisk, Russia's Chelyabinsk Region).