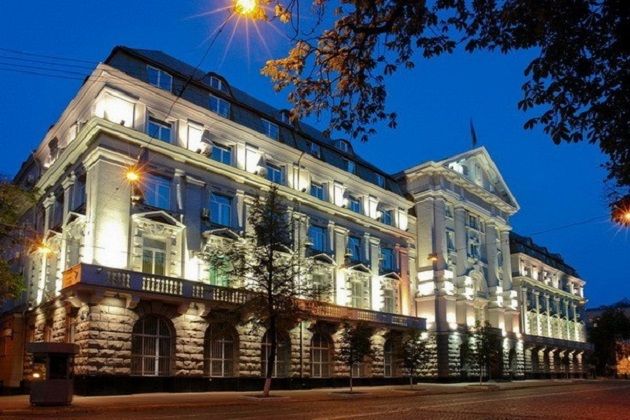 ssu.gov.ua
The Security Service of Ukraine (SBU) launched criminal proceedings over the initial publication by one of Ukraine's media outlets of a list of 47 Ukrainian journalists and bloggers whose life is claimed to be threatened.
"The Main Investigation Department of the Security Service of Ukraine opened criminal proceedings into the disclosure of information of the pre-trial investigation. Law enforcers established that on the webpage of one of the online publications there is a report that includes a list of persons, on whom the data are available in the case file of an earlier open criminal proceeding," says the statement by the SBU press center.
The SBU notes that the publication "lists the names of citizens of Ukraine and those of foreign countries that were planned to be physically exterminated as a result of terrorist acts in the territory of our country." "At the same time, neither an investigative body nor a chief procedural officer provided relevant information to anyone, including the author of the publication of the above-mentioned online outlet, to disclose said data," the Security Service said.
Meanwhile, the investigation is underway.
Read alsoChief prosecutor elaborates on Babchenko list with 47 potential victims
As reported earlier, on Tuesday, June 5, Strana.ua online media outlet published a list of 47 Ukrainian journalists and bloggers whose life is allegedly threatened and who may be potential targets of Russia-hired hitmen.
Earlier, Ukrainian security services prevented an attempt on the Russian opposition journalist Babchenko, who now resides in Kyiv, and carried out a sting operation to stage his "murder" on May 29.
According to the SBU, Russian special services recruited a Ukrainian man to organize Babchenko's murder. The man received $40,000 for organizing the crime, according to law enforcers. The organizer offered a former ATO participant to kill the journalist for $30,000 and handed him over a deposit of $15,000. Law enforcers detained the organizer of the assassination attempt, who testified on plans to murder another 30 people in Ukraine. Also, the organizer, on instructions he received from Russian intelligence, had to illegally acquire weapons for planting arms caches across Ukraine.
Read alsoSecurity agency explains why Klimkin not warned about Babchenko sting operation
The suspect in organizing the crime is Boris German, an executive director of the Ukrainian-German joint venture Schmeisser, the only non-state arms producer in Ukraine.
On May 31, the Kyiv Shevchenko District Court ruled to remand German in custody pending pre-trial investigation.
The Security Service of Ukraine announced they had information about a real threat to life of other individuals following an attempt on Babchenko.
In turn, the prosecutor general said that the investigation received a list of 47 people, among them famous Ukrainian and former Russian journalists who could be the next victims of terrorists.