Yatseniuk reappointed as prime minister of Ukraine
The leader of the Popular Front Party in parliament, Arseniy Yatseniuk, was reappointed as prime minister of Ukraine on Thursday at the first meeting of the new Verkhovna Rada, as Ukraine's parliament is named.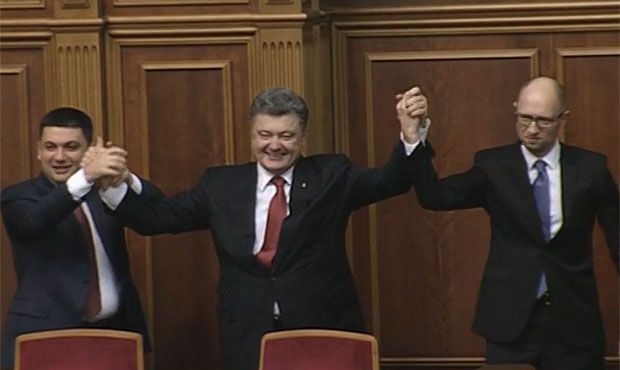 Arseniy Yatseniuk (right) was repointed as Ukraine's prime minister on Thursday.
Yatesniuk was reappointed with a vote of 341 for, and 2 against. Twenty-eight MPs did not vote.
Yatseniuk, who took over as head of government after a popular uprising in Ukraine ousted the previous government in February, had been widely expected to be reappointed as premier. His nomination for the post was earlier submitted by Ukrainian President Petro Poroshenko.
Earlier, parliament formed factions of MPs from the parties that won seats in the October 26 parliamentary elections. Five pro-European parties, along with some independent MPs, then formed a 302-votes-strong governing coalition in the new parliament named "European Ukraine."
If you see a spelling error on our site, select it and press Ctrl+Enter