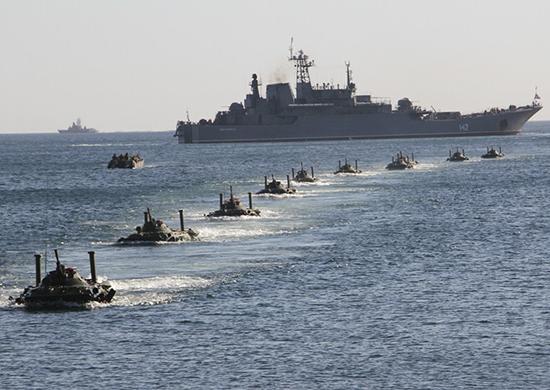 Ministry of Defense of the Russian Federation
Sources close to the Russian military said on Thursday that Russian naval forces in the Black Sea had been put on heightened alert to discourage Ukraine from trying to disrupt the football World Cup as the tournament got under way.
However, the Defense Ministry itself dismissed the reports, saying in a statement: "No measures to put [navy] on high combat alert have taken place," according to Reuters.
One of the military sources said there were concerns that Ukraine was building up its military presence in the area as a "provocation" during the tournament.
Three sources said Russia's forces around the Black Sea Crimea peninsula had been put on a state of high combat readiness. Two of them said it was linked to the tournament.
The sources said the mobilization involved deploying extra vessels to the Azov Sea, an arm of the Black Sea where Russia and Ukraine share the coastline, and naval aircraft flying extra sorties. Naval and coastguard units were involved.
Read alsoUkraine suggests real reason behind Russian navy maneuvers in Black Sea
"There is a concern that Ukraine could organize a provocation during the World Cup," said a source in the navy's aviation arm who also spoke on condition of anonymity.
"For that reason, we need a concentration of forces in the Azov Sea that will discourage thoughts of trespassing in (Russian) territorial waters."
The third source, in the naval coastguard, said the state of heightened readiness would remain in place until July 31, about two weeks after the World Cup concludes.
The Ukrainian navy and the office of Ukrainian National Security Council Secretary Oleksandr Turchynov did not comment on the alleged Russian deployments.
Read alsoRussia starts large-scale military drills in occupied Crimea
Asked if Ukraine was planning provocations, Turchynov's office said in a statement: "Regardless of the moaning of scared Russian mercenaries and the threats of the Russian president, the Ukrainian military will act in a way appropriate to the threats."