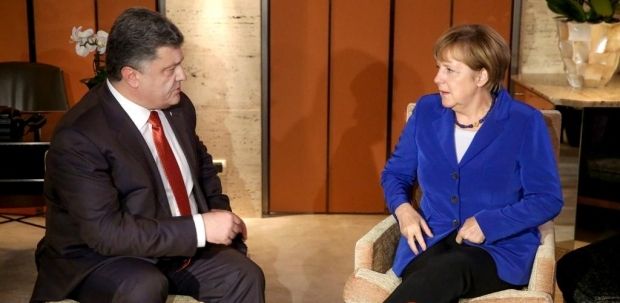 Photo from Twitter account of President Petro Poroshenko
In particular, the two leaders discussed the issues of humanitarian aid and the supply of energy in the conflict zone.
Merkel, speaking by phone with Poroshenko, congratulated Ukraine on the successful formation of a parliamentary coalition and expressed the hope that the new government would implement pro-European reforms, the press service told an UNIAN correspondent.
"The new Verkhovna Rada has been working. The coalition agreement, the election of the speaker of the Verkhovna Rada and the approval of the prime minister on the first day of the session is a clear signal of Ukraine's readiness for deep pro-European reforms," Poroshenko said.
The parties also discussed the situation in the Donbas. Poroshenko and Merkel both stressed the need to fulfill the terms of the Minsk Protocol by all parties for a peaceful resolution of the conflict, the presidential press service said.
They also stressed the importance of consultations within the Tripartite Liaison Group, and the special role of the OSCE Ambassador Heidi Tagliavini.
The Ukrainian President and German Chancellor agreed to make every effort to intensify negotiations on a peaceful resolution of the situation in the Donbas conflict zone.