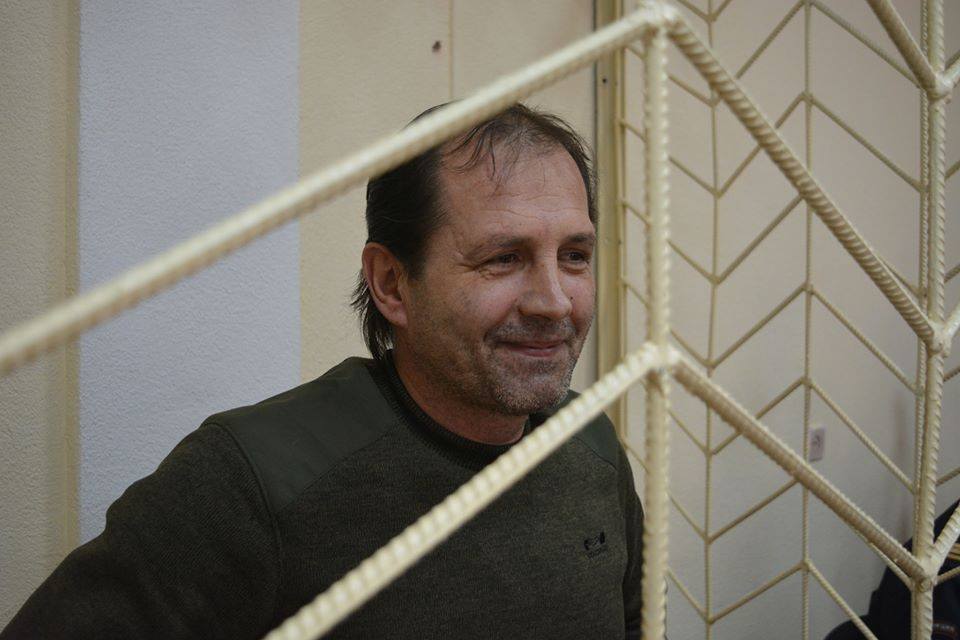 @crimeahrg
A "prosecutor" in Russian-occupied Crimea has demanded an extra four-year sentence against Ukrainian political prisoner Volodymyr Balukh for something termed "disorganizing the work of the detention unit," with this to be added in full to the remaining two years of his current sentence.  
Balukh is looking frail and gaunt after 106 days hunger strike in protest at what has been internationally condemned as persecution for his pro-Ukrainian position – and the Ukrainian flag over his home, the Kharkiv Human Rights Protection Group reports.
The charges of 'disorganizing the work of the detention unit' (under Article 321 § 2 of Russia's criminal code) are both farcical and false, the report reads.
The prosecution claims that Balukh had, on August 11, 2017, attacked the head of the temporary detention unit in Razdolne,  Valery Tkachenko and then poured a cleaning substance over him. Balukh had repeatedly complained that Tkachenko was taking every opportunity to harass and insult him, and the defense is adamant that video footages demonstrates that the circumstances of the incident were quite different. Balukh was standing with his face to the wall and surrounded by police officers.  Tkachenko walked past, and, using his elbow, pushed Balukh in the back. Balukh was pushed against the wall, almost hitting his head, and instinctively lashed out, hitting Tkachenko in the stomach.  That resulted in a conflict with mutual abuse, after which Tkachenko can be seen lashing out and hitting Balukh once more.  The video later shows Tkachenko going into Balukh's cell, where the latter says he was subjected to a torrent of serious insults.  These, like earlier harassment, had targeted Balukh's elderly mother, other relatives, etc. and Balukh reacted by directing a canister with some cleaning substance in Tkachenko's direction. The lid unfortunately came off and the substance spilled on Tkachenko.
Read alsoSentsov fed with unknown substance since June 8 – Ombudsperson
The defense has learned that it is Russia's Investigative Committee that has insisted on concocting charges of "destabilization" out of this extremely minor incident which should, at least, have resulted in some disciplinary penalty.
Instead, the Razdolne "prosecutor," Dmitry Nikolaevich Shmelev, demanded four years in medium security prison, on top of the first sentence of two years with a RUB 10,000 fine.
Defence lawyer Olga Dinze asked for an acquittal given the lack of any crime.  She stressed that Balukh's actions should be deemed legitimate self-defense which had in no way disorganized the work of the unit.
The verdict is due at 11:00 local time on July 5.
Read alsoGerashchenko names Russians Ukraine ready to swap for its political prisoners
A 47-year-old Balukh has been on hunger strike since March 19, 2018. On the 25th day, he began taking the minimum amount of food needed to prevent the occupation authorities from applying force-feeding. 
Balukh had suffered a string of administrative prosecutions on trumped-up charges from the beginning of Russia's occupation of Crimea, with all very clearly linked with the Ukrainian flag he insisted on flying over his home and his unconcealed opposition to Russia's annexation of the peninsula.