Ukrainian, Serbian presidents talk Kosovo, peacekeeping mission for Donbas
Poroshenko believes that a compromise should be found on the Kosovo issue, taking into account Serbia's interests.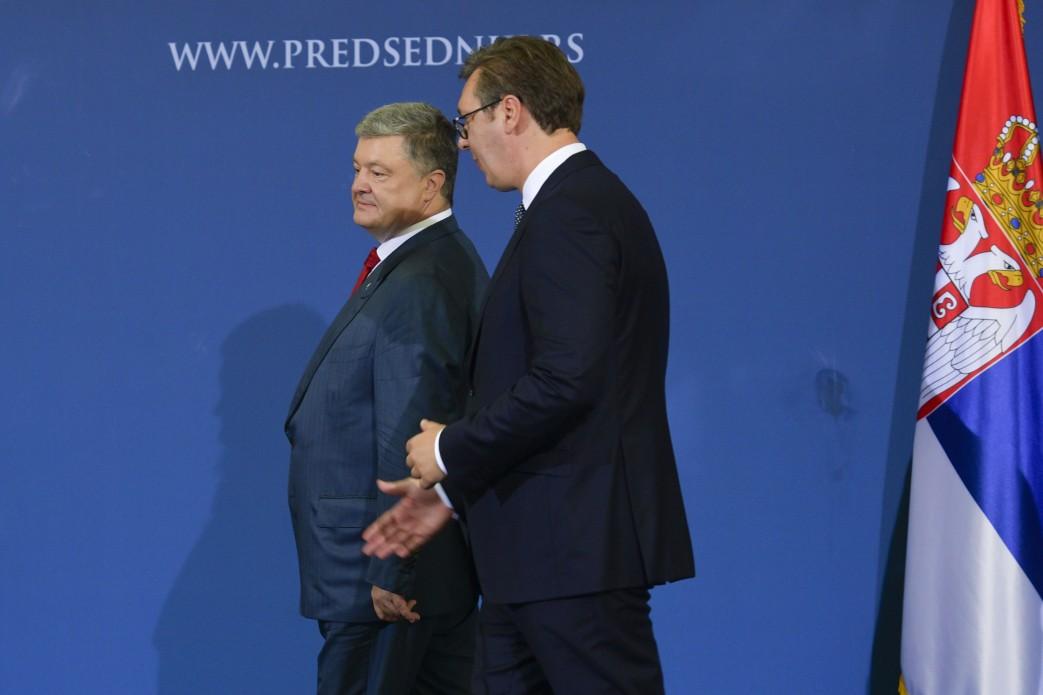 president.gov.ua
Ukrainian President Petro Poroshenko thanked Belgrade for supporting sovereignty, territorial integrity and independence of Ukraine, and expressed hope that the Serbian side would support the introduction of a UN peacekeeping mission in the occupied Ukrainian territories, according to the presidential press service.
"We highly appreciate the absolutely firm position of supporting sovereignty, territorial integrity and independence of our state. Including Crimea, which is Ukrainian. And the efforts we are making in joint coordination so that Ukrainian sovereignty is restored over all territories occupied by Russia and that peace comes to the land of Ukraine," Petro Poroshenko said during a joint press statement with the Serbian president following bilateral talks held within the framework of Poroshenko's visit to Serbia.
Read alsoRFE/RL: White House says U.S. still rejects Russia's annexation of Crimea
"We definitely count on Serbia's support for the introduction of a peacekeeping mission under the mandate of the United Nations Security Council. We are confident that the clear implementation of Minsk agreements, including the priority of the security component, is now a non-alternative way of bringing peace to the Ukrainian land," the President of Ukraine emphasized.
Petro Poroshenko stressed that Ukraine respects territorial integrity and sovereignty of Serbia. "We did not recognize Kosovo and we proceed from the standpoint that the Kosovo problem should be resolved in a compromise manner, taking into account the interests of Serbia," he added.
In turn, President of the Republic of Serbia Aleksandar Vucic emphasized: "I want to say that, as Ukraine supports territorial integrity of the Republic of Serbia, Serbia also supports territorial integrity of Ukraine. And we believe that it is very important to work seriously and responsibly to expand our ties."
The President of Serbia also emphasized the importance of respecting the Minsk agreements and noted that they should be an important link in the establishment of peace. "I am very grateful to Mr. President for supporting territorial integrity of our country," he said.
If you see a spelling error on our site, select it and press Ctrl+Enter