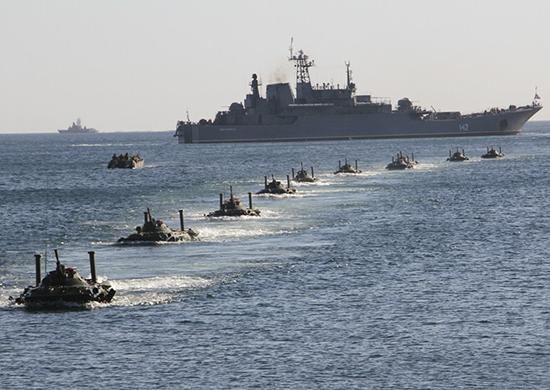 Russian Defense Minstry
Vice-Admiral Ihor Voronchenko, Commander of the Naval Forces of the Ukrainian Armed Forces, says the Russian Federation continues the creeping annexation of the exclusive maritime economic zone of Ukraine.
"A very tense situation has developed in the Azov and Black Seas as the Russian Federation is carrying out activities that discredit all norms and principles of international maritime law. Further 'creeping' annexation of our exclusive maritime economic zone is taking place," Voronchenko said in Odesa on Monday during the opening ceremony of the Sea Breeze 2018 international drills, an UNIAN correspondent reports.
He also expressed deep surprise at the fact that one of MPs of the State Duma had shown interest in the Sea Breeze 2018 drills. In this regard, Voronchenko noted the exercises had been planned in advance, everyone knew about this and understood what tasks would be performed during them. At the same time, Ukraine is an independent state, and others need to be reckoned with, as well as be guided by the principles and freedoms of the civilized world.
"There is no need to be guided by the principles of Tsar Peter the Great or Empress Catherine. We must understand that it is not the 18th century now but the 21st, and the whole world lives by other norms. The Azov and Black Seas are not internal lakes of the Russian Federation, and they shouldn't be dictating us any of their positions and framework conditions," the vice-admiral said.
Read alsoUSS Porter arrives in Odesa for Sea Breeze-2018 drills
He added that Ukraine is well aware of how to respond to challenges and expressed confidence that all the tasks of the drills aimed at maintaining security and peace in the Black Sea region will be accomplished with honor and dignity.
In turn, Commander of Task Force 65 of the U.S. Navy's 6th Fleet, Commodore Matthew J. Lehman, responding to a question at a briefing about threats from the Russian Federation, said that was a routine operation for the U.S.
As UNIAN reported earlier, the Sea Breeze 2018 international drills with the participation of U.S. Navy will start today, July 9, in Odesa and Mykolaiv regions, as well as in the northwestern part of the Black Sea.