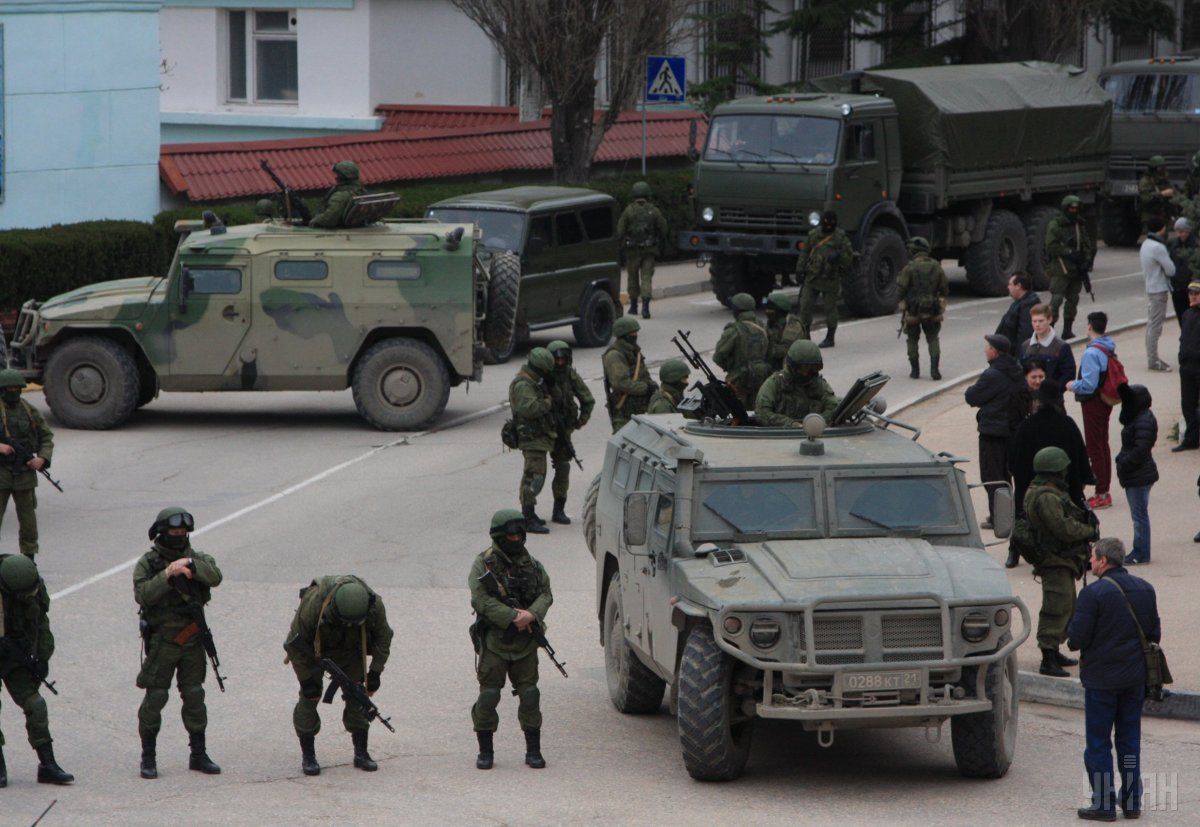 Russia's "green men" in Crimea in March 2014 / Photo from UNIAN
The document signed by the presidents of Ukraine, the European Commission and the European Council after a summit in Brussels on Monday gives a clear definition of Russia's actions against Ukraine as "acts of aggression by the Russian armed forces."
"We reiterated our strong condemnation of the clear violation of Ukrainian sovereignty and territorial integrity by acts of aggression by the Russian armed forces since February 2014," says the statement after the 20th EU-Ukraine Summit in Brussels, Belgium, on July 9, 2018.
The statement was signed by President of the European Council Donald Tusk, President of the European Commission Jean-Claude Juncker, and President of Ukraine Petro Poroshenko, who met at the summit in Brussels, according to the Ukrainian president's press service.
Its wording was approved by all 28 member states.
"We continue to condemn the illegal annexation of Crimea and Sevastopol by the Russian Federation, holding of its elections in the illegally annexed peninsula and the deterioration of the human rights situation there, the building of the Kerch Strait bridge without Ukraine's consent, the further militarisation of the peninsula as well as the Black and Azov Seas," the statement said. "We remain committed to fully implement our respective non-recognition policies, including through restrictive measures. We called on Russia to allow access of international organisations and human rights actors to the areas currently not under the control of the Government of Ukraine, including the Crimean peninsula, and to respect international humanitarian law. We called for the immediate release of all illegally detained and imprisoned Ukrainian citizens in the Crimean peninsula and in Russia, including Crimean Tatar activists as well as Oleg Sentsov, Volodymyr Balukh, Oleksandr Kolchenko, Stanislav Klykh, Oleksandr Shumkov and Roman Sushchenko. Ukraine presented its activities in international fora to address the impact of the illegal annexation of Crimea and Sevastopol."
Read alsoSentsov "lost 15 kg": Sister visits filmmaker in distant Russian colony
"We deplored the continuation of violence in certain areas of the Donetsk and Luhansk regions and its heavy toll on the civilian population and its dire consequences for the human rights situation. We condemned in the strongest terms the continued indiscriminate shelling of residential areas and critical civilian infrastructure. We reaffirmed our full support to the endeavours in the Normandy format, the OSCE and Trilateral Contact Group aimed at sustainable and peaceful resolution of this conflict through the full implementation of the Minsk agreements by all sides, underlining the responsibility of the Russian Federation in this regard," the statement said.
They also recalled the tragic downing of flight MH17, paying tribute to the victims. "[We] looked forward to the effective prosecution of those responsible for this tragedy, and called on the Russian Federation to accept its responsibility and to fully cooperate with all efforts to establish accountability," the statement said.