Ukraine embassy responds to Lublin Governor's statement branding as "provocation" Poroshenko's Poland visit
The Polish official said this was done as a provocation amid Poland's honoring the 75th anniversary of the tragic bloody week in Volhynia.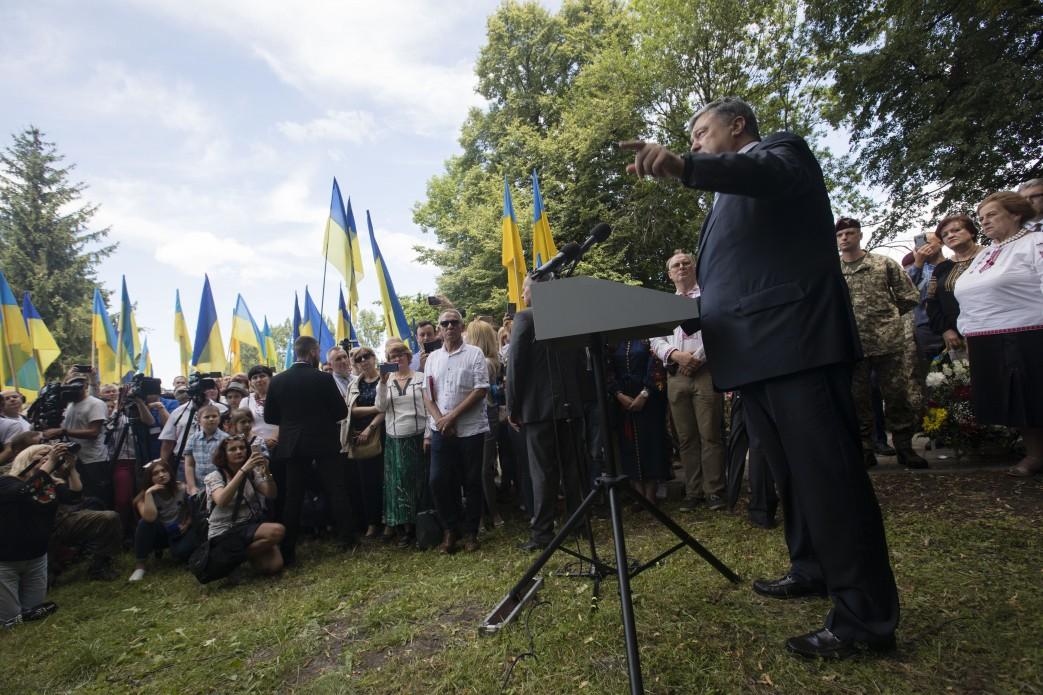 president.gov.ua
The Ukrainian Embassy in Poland has commented on the statement by Lublin Governor Przemyslaw Czarnek who branded "provocation" commemoration events held in the Polish village of Sahryn on July 8 with the participation of Ukrainian President Petro Poroshenko.
A memorial to the Ukrainians who perished from the hands of Polish peasants' battalions and units of the Army Krajowa in 1944 was opened in the village of Sahryn, Poland. Lublin Governor Przemyslaw Czarnek called the events "one big provocation," as reported by the Europeiska Pravda with reference to the Polish media.
According to the official, Ukrainians had been murdered there on March 10, 1944,
"How does this relate to July 8? Nobody knows. This was a provocation against the 75th anniversary of the tragic bloody week in Volhynia, where the Ukrainian nationalists, gangsters the world hardly saw before, had brutally and systemically killed thousands of Poles," Czarnek said.
In this regard, the Ukrainian Embassy in Poland recalled that "perpetuating the memory of the late representatives of each of the countries, no matter their nationality, is no provocation but a highly moral Christian act committed by presidents of Ukraine and Poland on July 8."
Read alsoPoroshenko says Ukraine opposes politicization of common historical past, while Duda stresses "time heals wounds"
"According to the Christian tradition, the deceased are commemorated at any time of the year without mentioning the date of death, especially when this is carried out in the presence of clerics," the commentary says.
It is noted that Ukrainians who raise national flags at official events can in no way be called "nationalists" and "provocateurs." It is also impossible to apply such definition to Poles who publicly use their national flags.
"We want to once again draw attention to the importance of the fundamental principle of interstate relations: politicians and officials should not manipulate history. This is especially important when they themselves recognize that they are not historians, they are unaware of the established facts and don't go deep into the essence of the issue they are discussing," the embassy concluded.
Read alsoStrategic partnership between Ukraine, Poland to be best response to Kremlin's aggressive policy - Poroshenko
As UNIAN reported earlier, during the opening of the memorial in the village of Sahryn, Ukrainian President Petro Poroshenko called for a revision of the changes in the Polish legislation on the Institute of National Remembrance and provisions concerning the assessment of Ukrainians by Poles.
If you see a spelling error on our site, select it and press Ctrl+Enter