Poroshenko to Scaparotti: Ukraine-U.S. cooperation strengthening over past 4 years
Also, Poroshenko thanked the U.S. for providing assistance to Ukraine and visited the U.S. Navy ship.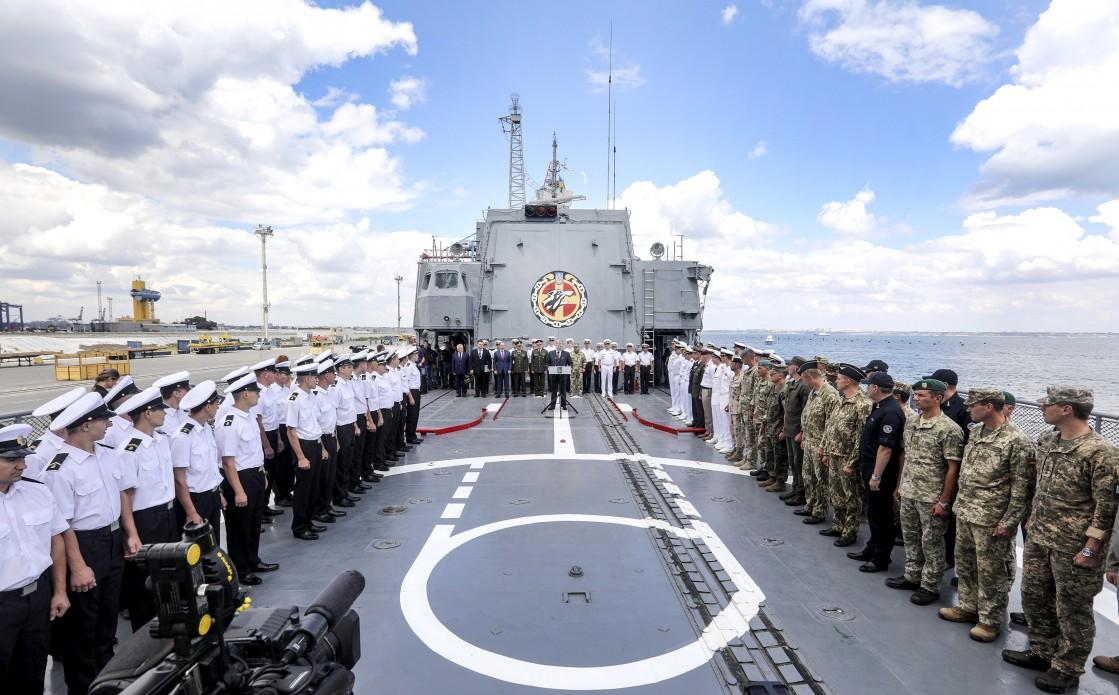 Ukrainian Presidential Administration
Ukrainian President Petro Poroshenko at his Monday meeting with Commander-in-Chief of the U.S. Armed Forces in Europe General Curtis Scaparotti said cooperation between Ukraine and the U.S. had been strengthening over the past four years, an UNIAN correspondent reports.
The meeting took place during Poroshenko's working trip to Odesa region, where the head of state visited the U.S. Navy command vessel USS Mount Whitney, which participates in the multinational exercise "Sea Breeze – 2018."
At the meeting with Scaparotti, the president noted that over the past four years, cooperation between Ukraine and the United States has intensified.
Read alsoPoroshenko doesn't rule out Russia's preparations for attack on Mariupol
Poroshenko stressed that Ukraine is carrying out reforms, strengthening its defensive capacity and reforming the security sector, since the strategic goal of the state is to join NATO.
The head of state also thanked the US for helping Ukraine and inspected the US Navy ship.
As UNIAN reported, on July 9 the international military exercise Sea Breeze-2018 launched in Odesa. Representatives of 19 countries are taking part in the drills: Bulgaria, Great Britain, Italy, Greece, Georgia, Denmark, Estonia, Canada, Lithuania, Norway, UK, Romania, Poland, USA, Turkey, Sweden, India, UAE, and Moldova.
July 8-9, foreign navy ships entered the Odesa port to participate in the international naval exercises Sea Breeze-2018. In particular, it was the American destroyer USS Porter DDG78, the flagship of the U.S. 6th Fleet USS Mount Whitney, the Turkish frigate TCG Yavuz and the submarine TCG Yildiray, as well as the Bulgarian corvette BGS Bodri.
Read alsoUSS Porter arrives in Odesa for Sea Breeze-2018 drills
Ukraine is represented by about 30 ships and boats (not only of the Ukrainian Navy, but also of the coast guards), aviation, and about 1,500 servicemen.
The special feature of Sea Breeze-2018 will be the management of the forces of sea, land and air components from the sea. The multinational headquarters will be located on the USS Mount Whitney naval command ship, which will be on the high seas.
UNIAN memo. The Ukrainian-American exercises Sea Breeze have been held annually since 1997 in accordance with the Memorandum of Understanding and Cooperation on Defense and Military Relations between the U.S. Department of Defense and the Ministry of Defense of Ukraine of 1993. They are conducted with the purpose of increasing combat readiness of the Ukrainian Navy on a bilateral basis, but are open to other countries.
If you see a spelling error on our site, select it and press Ctrl+Enter