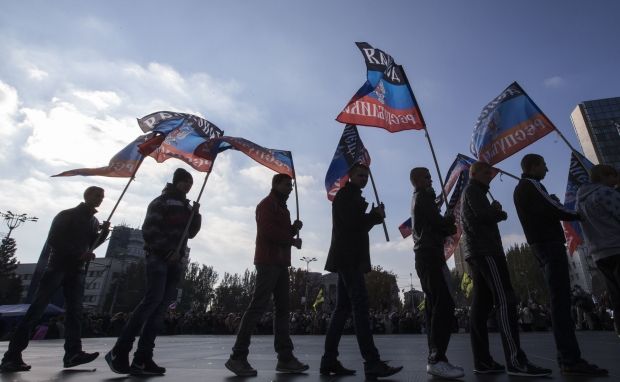 REUTERS
The newspaper made the claim on Monday, with reference to Russian daily newspaper Novaya Gazeta, which in turn referred to its sources in the administration of the Russian President, the Cabinet of Ministers of the Russian Federation, and among the insurgents.
"Russia wants to push the republics back to Ukraine under any terms of autonomy," according to the source of the publication, who it said was close to the organizers of the project to destabilize eastern Ukraine.
"A colleague of Vladimir Putin, Vladislav Surkov, is now engaged in the so-called 'pushing back' of the eastern regions," the report reads.
"Under his leadership, this issue has also been studied by Igor Udovichenko, a new deputy head of the Administration of the President on socio-economic cooperation with the CIS countries, Abkhazia and South Ossetia."
"The dismissal of Boris Rapoport, the predecessor of Udovichenko, has been connected with the change of policy within the Kremlin."
"Vladislav Surkov decided that Rapoport was not up to his tasks, although we worked together well," one of the leaders of the Russian-backed insurgents told Novaya Gazeta.
According to the newspaper, Surkov personally ordered the removal of leaders of the insurgents who were becoming too independent - Igor Girkin (nicknamed Strelkov), Ihor Bezler (Bes), and the ataman of the Don Cossacks Nikolay Kozitsin.
"The General Staff of the Russian Armed Forces General Sergei Surovikin was responsible for their removal," Novaya Gazeta reported.
As reported earlier, Girkin said that Vladislav Surkov was responsible for all actions of the Russian-backed insurgents and Russian mercenaries in the Donbas.
Girkin, in interviews given earlier, said he and his team of special operations soldiers arrived in the Donbas after being involved in the organization of the illegal annexation of the Ukrainian territory of Crimea by Russia in March.